Ultimate Guide to the Best Solo Female Travel Destinations
2023-08-23 00:11:05 - Drany Macley
Drany Macley, the senior editor of Vytravels.com, brings extensive journalism background and over eight years of experience in travel writing and editing to the site, offering practical insights and first-hand knowledge through articles on innovative hotels, backed by a BA in Journalism from Ithaca College.
Traveling alone as a woman can be a thrilling and empowering experience, but it's important to choose the right destinations to ensure a safe and enjoyable trip. Whether you're a seasoned solo traveler or embarking on your first adventure alone, this article has got you covered. From the stunning landscapes of Europe to the bustling cities of Asia, and the vibrant cultures of the Americas to the breathtaking beauty of Oceania, we have curated a list of the best places for women to travel alone. So pack your bags, book your tickets, and get ready to embark on an unforgettable journey towards self-discovery and independence.
Top Destinations for Solo Female Travel in Europe
I have had the opportunity to visit many places in Western Europe, but personally, I find that Central and Eastern Europe, particularly the Balkans, offer better experiences and value for solo female travelers.
Eastern Europe is often unfairly perceived as unsafe due to political factors, bias, and outdated sources. However, I have had incredible and rewarding experiences in this region. I have met amazing people, indulged in delicious food and drinks, and enjoyed my travels without financial worries.
If you are interested in the best destinations for solo female travel in Europe, you can read more here: best places for solo Europe travel.
Now, let's explore my top picks in both Western and Eastern Europe:
Portugal
Rating for solo travel: Easy
Lisbon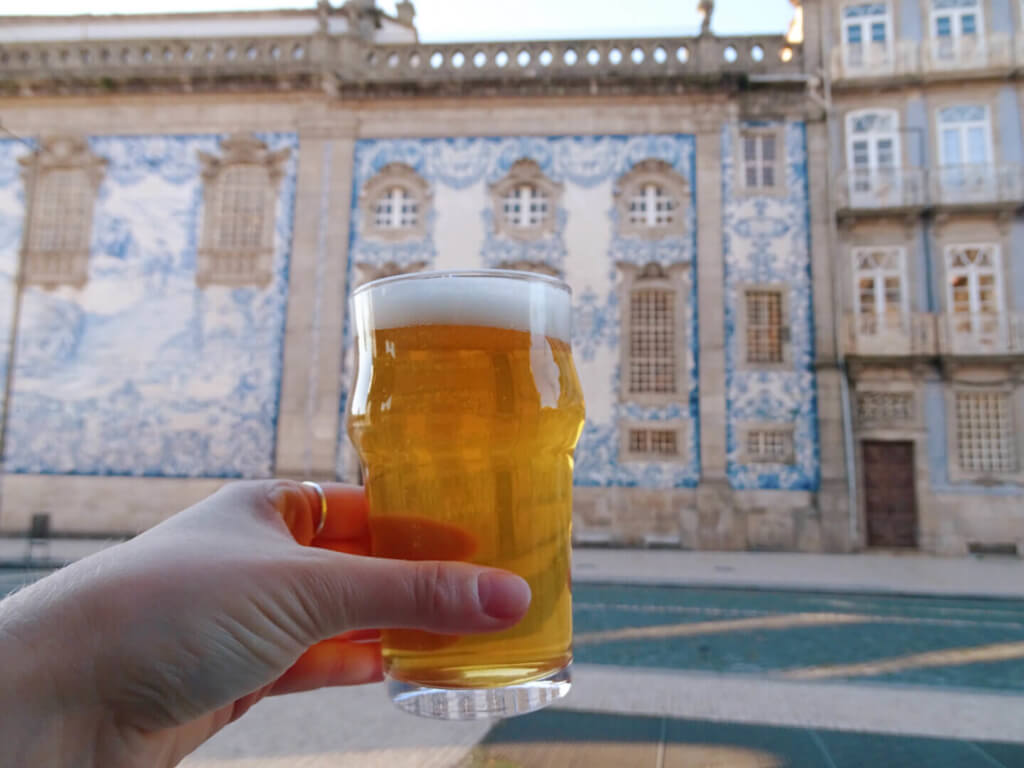 Porto
Portugal is a wonderful country that offers a wide range of attractions and experiences for solo female travelers. From its pleasant weather and beautiful beaches to vibrant cities and mouthwatering pastel de natas pastry, Portugal has it all. It truly deserves a perfect score for solo vacation destinations for women.
Here are some of the best places to travel solo in Portugal:
Lisbon: The capital city, Lisbon, is cosmopolitan and captivating. It boasts majestic architecture, charming neighborhoods, and countless hidden gems. For more information, check out my dedicated guide to solo travel in Lisbon.
Porto: I lived in Porto for three months and fell in love with its beauty and charm. It has a distinct traditional character compared to Lisbon, and you can find plenty of things to explore and experience. For more details, you can read all my Porto blogs.
The Algarve: I initially had concerns that this region might be expensive or too family-oriented. However, I discovered that with careful planning, it can be a wonderful destination for backpackers. The Algarve offers stunning beaches, great hiking opportunities, and charming small towns. I particularly enjoyed Faro and Lagos. I strongly advise against visiting Albufeira, as it tends to be overcrowded with partying tourists.
Safety Rating: 10/10. The locals are friendly, and the attitudes towards women, LGBT travelers, and people of color are progressive.
If you are interested in meeting other travelers during your solo trip, it's super easy to connect in Lisbon, Porto, and the Algarve. There are numerous hostels and activities you can join through Viator and GetYourGuide.
In terms of cost, Portugal is not as inexpensive as some Asian or Eastern European destinations. However, it is considerably more affordable compared to countries like France, Germany, or the UK, as long as you avoid tourist traps and pricey city center restaurants in Lisbon and the Algarve. In Porto, for example, I found 3-course meals for less than €10 and glasses of wine for €2! Additionally, buses and trains for intercity travels can cost as little as €3.
Ireland
Rating for solo travel: Easy
Ireland is great for solo travel. It offers a safe and friendly environment, stunning natural beauty, and no language barrier for English speakers. Whether you enjoy outdoor activities or prefer city exploration, Ireland has it all. Dublin, in particular, is one of Europe's most visited cities, and a visit to the vibrant Temple Bar area is a must!
I personally had a memorable trip to Ireland between Christmas and New Year, although I wouldn't necessarily recommend going during that particular time. However, a winter trip can be enjoyable despite the less favorable weather. It provides the perfect opportunity to cozy up in pubs, savor a Guinness, and listen to live Irish music.
Safety Rating: 10/10.
Meeting other travelers in Ireland is easy. I recommend staying at City Hostel in Galway, as it offers a great atmosphere for meeting fellow travelers. In Dublin, I suggest opting for a smaller hostel, as some of the larger ones can make it more challenging to connect with people.
In terms of cost, Ireland can be quite expensive. I have recently heard that Dublin prices are on par with Nordic countries due to inflation in 2022. The cons of solo travel in expensive destinations are more evident when you have no one to split the costs with. Therefore, I recommend exploring affordable dining options, such as supermarket dinners and packed lunches.
Barcelona
Rating for solo travel: Easy
Barcelona is often regarded as the ultimate city that has it all. It offers fantastic food, iconic architecture, vibrant nightlife, a city beach, and access to beautiful hiking trails. Whether you prefer a fast-paced exploration or a leisurely experience, Barcelona has something for everyone. I recommend following a 3-day Barcelona itinerary to make the most of your visit. Alternatively, staying in one of the city's many hostels and mingling with fellow travelers is a great way to enjoy the vibrant nightlife.
The only downside to Barcelona is its popularity, especially during July and August. To have a more enjoyable experience, I recommend visiting during other months and avoiding crowded tourist areas like Las Ramblas. By following these suggestions, your solo trip to Barcelona is sure to be fantastic.
Safety Rating: 7/10. While violent crime is relatively low, pickpocketing is common. I advise being cautious, especially in crowded areas and public transport. Make sure to use secure bags and stay vigilant.
Meeting other travelers in Barcelona is easy, thanks to numerous highly-rated hostels.
Cost-wise, Barcelona falls somewhere between the more expensive capital cities in Western Europe and the budget-friendly destinations like Albania. Hostels start from €18, and you can find affordable tapas if you venture slightly away from the city center. While exploring the renowned La Boqueria market is highly recommended, keep in mind that it can be pricey.
Croatia
Rating for solo travel: Easy
When I had Dubrovnik to myself in March!
Croatia is not only a beautiful country but also one where I have lived rather than just being a passing tourist. Therefore, I can confidently recommend it as an excellent destination for solo female travel. If you love beaches and island hopping, Croatia will be a paradise for you.
Here are some of the best places to travel solo in Croatia:
Dubrovnik: This city is renowned for its history and was made even more famous by being featured in Game of Thrones. Its well-preserved Old Town and city walls offer architectural and cultural treasures, and the city also boasts a vibrant nightlife.
Split : Another coastal gem, Split is known for its historic Diocletian's Palace. It serves as a gateway to various day trips, including the stunning Krka Waterfalls and picturesque islands like Hvar and Korcula.
Zadar : This underrated city by the sea offers a unique experience. Don't miss the opportunity to witness beautiful sunsets by the Sea Organ, an innovative art installation that turns the power of waves into melodious music.
Zagreb : While it may not be the most exciting European capital, Zagreb has its own allure. It is a pleasant and affordable city. I have written guides on the best cafes, street art, and taking a day trip to Plitvice National Park.
Not solo for long!
Lady who lunches alone and loves it
Safety Rating: 10/10.
Meeting other travelers in Croatia is easy due to the abundance of hostels and organized activities. If you ever feel like a change from solo travel, you can also consider joining a group tour for a day. Croatia has a thriving digital nomad scene, so tapping into expat and Facebook groups is a great way to connect with communities if you plan on staying longer.
As for costs, Croatia is not as cheap as I had expected. Restaurants in Split and Dubrovnik city centers can rival prices in London. It's wise to do some research and explore side streets for more affordable dining options. On the other hand, I found Zagreb to be quite affordable.
Berlin, Germany
Rating for solo travel: Easy
Berlin Wall street art
Berlin, often referred to as "Quirky Berlin," is one of Europe's coolest capitals. It is a city like no other, bursting with unique and alternative experiences. While it is now known for its offbeat attractions, its complex history played a prominent role in world affairs just 35 years ago. The remnants of the Berlin Wall, covered in street art, bear witness to that history.
When visiting Berlin, it is essential to learn about its history. However, don't miss out on the city's vibrant and quirky side. Explore street art, visit underground clubs, disco inside phone booths, and discover Cold War bunkers and spy stations that have been repurposed.
Berlin is also known for its vegan-friendly scene, making it a paradise for vegans.
Safety Rating: 8/10. As with any large city, there are risks of petty crimes such as pickpocketing. However, Berlin is progressive, welcoming the LGBT community and international travelers from all backgrounds.
Meeting other travelers in Berlin is easy, thanks to numerous hostels and various activities such as street art classes and bar crawls.
In terms of cost, Berlin is relatively expensive. However, it is not as pricey as other Western European capital cities. You can expect to pay around €6-12 for main dishes in restaurants and €2-3 for a pint.
Klunkerkranich rooftop bar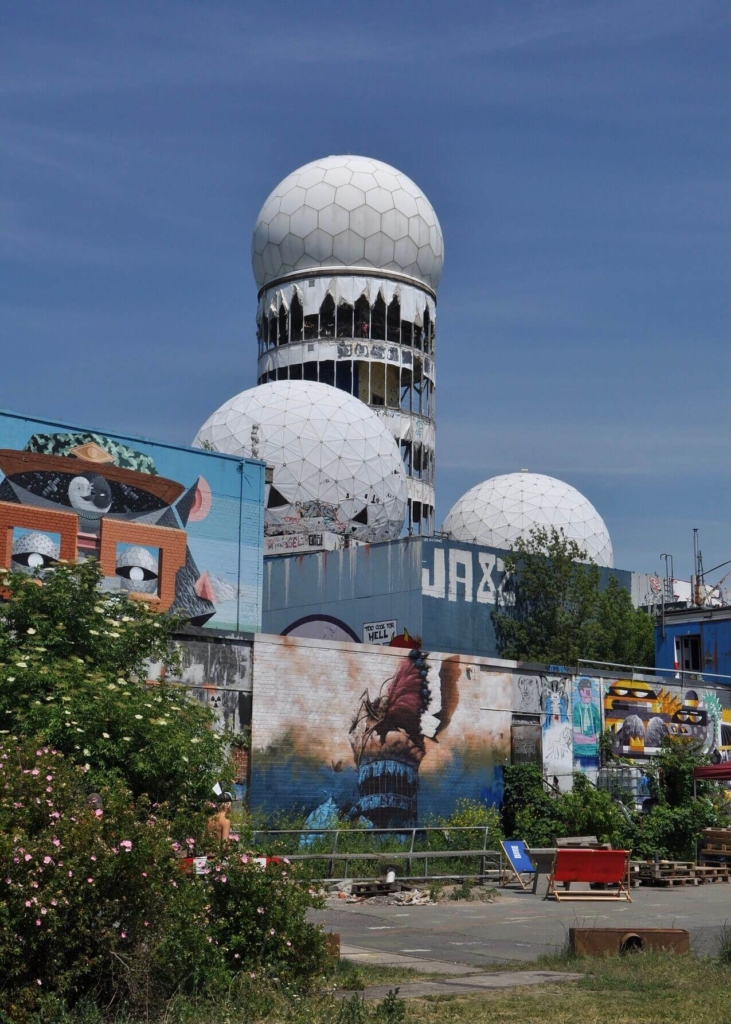 Teufelsberg (old military base)
Although I have only listed Berlin here, the entirety of Germany is a safe and rewarding destination for solo female travelers. I particularly love the fairytale cities in Bavaria, such as Nuremberg. However, keep in mind that these cities may not have as prominent a backpacker scene.
Budapest, Hungary
Rating for solo travel: Easy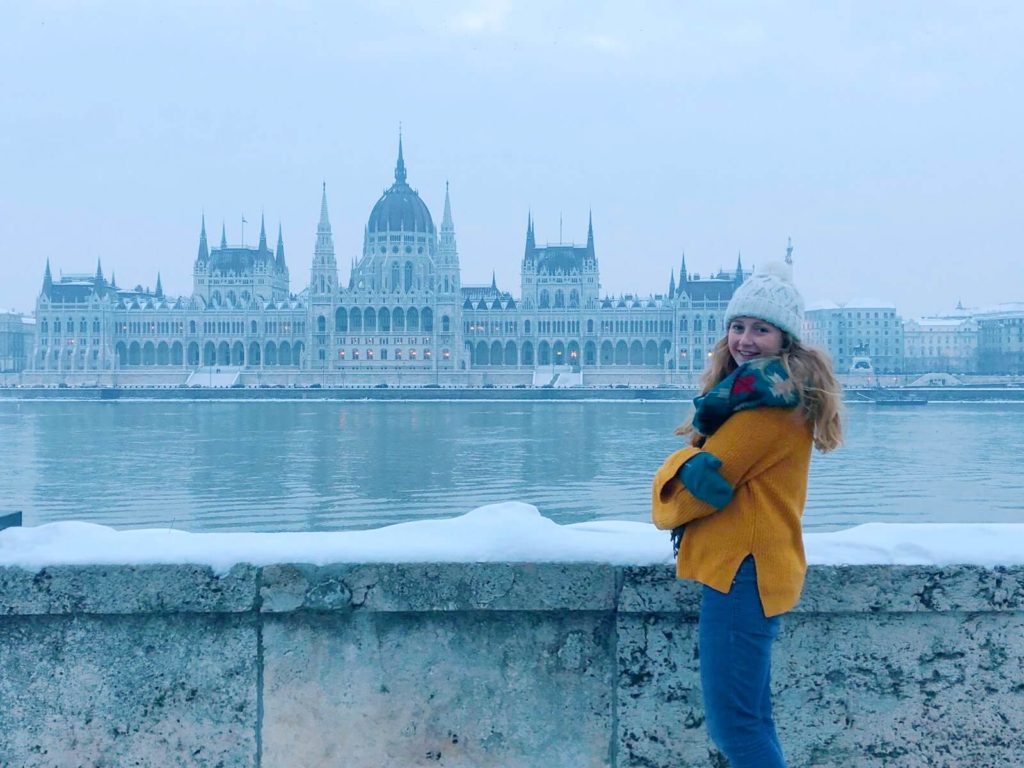 Affordable, fun, beautiful, great nightlife, hearty food—Budapest in Hungary has everything you could want for a solo trip. With several visits under my belt, I can confidently say that Budapest is one of my favorite cities in Europe.
There is an abundance of things to do in Budapest, from relaxing in hot spas to cruising down the Danube River, visiting historical landmarks like Fisherman's Bastion, enjoying the city's parks and Margaret Island during the summer, exploring the Jewish Quarter, and indulging in hearty Hungarian cuisine.
To fully experience the city's famous ruin bars and eclectic nightlife, staying in a hostel is highly recommended for meeting other travelers.
Safety Rating: 8/10. As with any city, petty crimes like pickpocketing can occur. However, Budapest generally provides a safe environment. LGBT travelers may find Budapest more welcoming than the rest of Hungary, as the local population is less diverse in terms of acceptance.
Meeting other travelers in Budapest is easy, thanks to numerous highly-rated hostels such as The Loft and Carpe Noctem.
In terms of cost, Budapest falls into the mid-range category. It is more expensive than super cheap destinations like Albania but certainly more affordable than capital cities in Western Europe. Main dishes in restaurants can cost around €6-12, and a pint of beer typically costs €2-3.
If you have the time, I recommend catching a train to Prague for a continuation of your solo adventure.
Prague
Rating for solo travel: Easy
John Lennon Wall, Prague
Prague is another city that I have visited multiple times and can recommend as a fantastic destination for solo travelers. It offers a combination of fun, beauty, great cafes, lively nightlife, and countless attractions to explore.
While Prague might not be known for its culinary scene, I personally enjoyed the rich and hearty meals, even if some resemble something Rachel from Friends might accidentally make.
Safety Rating: 8/10. As with any tourist destination, you should be cautious of your belongings, especially in crowded areas during the summer. However, the Czech Republic is generally a safe country to visit.
Meeting other travelers in Prague is easy. Simply join a bar crawl or a free walking tour to connect with fellow explorers.
In terms of cost, Prague falls somewhere between capital cities in Western Europe and extremely cheap destinations like Albania. Main dishes in restaurants usually range from €6 to €12, and a pint of beer typically costs around €2-3.
Slovenia
Rating for solo travel: Easy
Slovenia is considered one of the safest countries in the world and provides an ideal destination for first-time solo female travelers. It offers stunning natural beauty, affordability, and a decent backpacker scene. Moreover, the country is incredibly beautiful, particularly for those who enjoy hiking and immersing themselves in nature.
The capital city, Ljubljana, is a charming place, especially in good weather. You can spend your time exploring the countless cafes and restaurants alongside the river. Additionally, I recommend visiting the beautiful Lake Bled.
I also included Lake Bohinj and Piran on the Istrian peninsula in my Slovenia itinerary. Both places are stunning, although they may not have a significant backpacker scene.
Safety Rating: 10/10.
Best Destinations for Solo Female Travel in Asia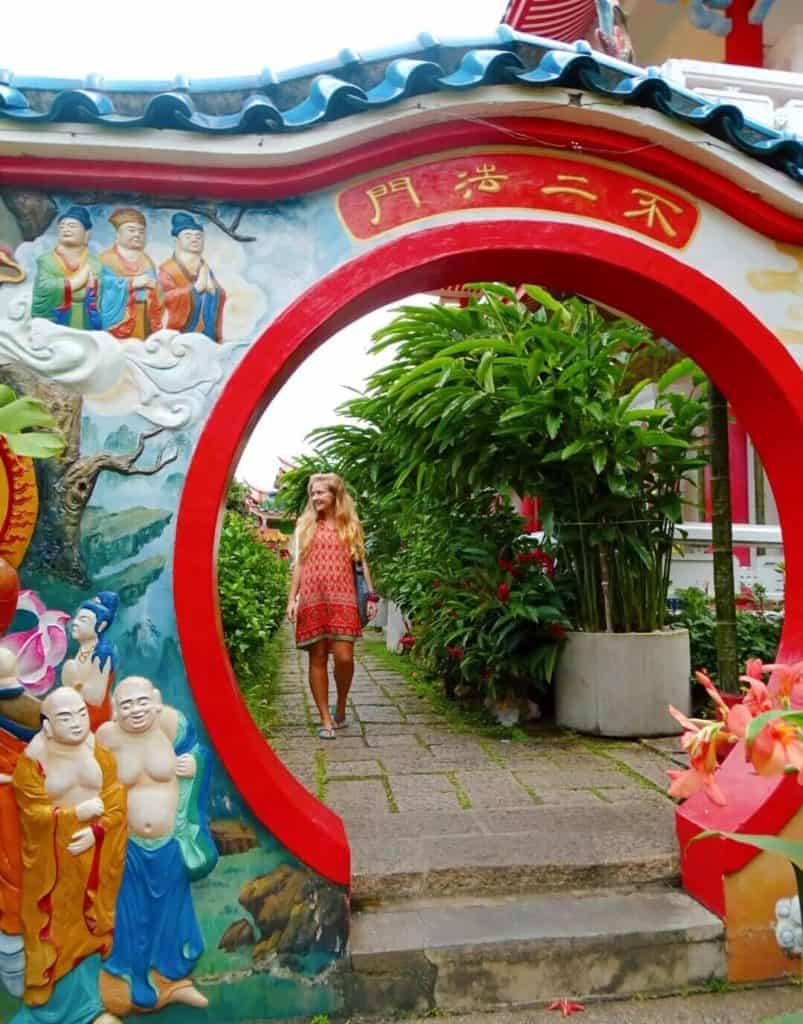 Kek Lok Si Temple, Malaysia
Elephant Cave, Ubud, Bali
Ah, Asia, my first love of travel! My initial experiences of different cultures unlike my own took place in Asia, as did my first experiences of independence and self-sufficiency as a solo traveler.
When I refer to Asia as a first-time solo travel destination, I am mainly focusing on Southeast Asia. In this region, there is a well-established backpacker route that makes it incredibly easy to make friends with fellow travelers on a similar journey.
Read next: the best places for solo travel in Asia
Thailand
Solo travel rating: easy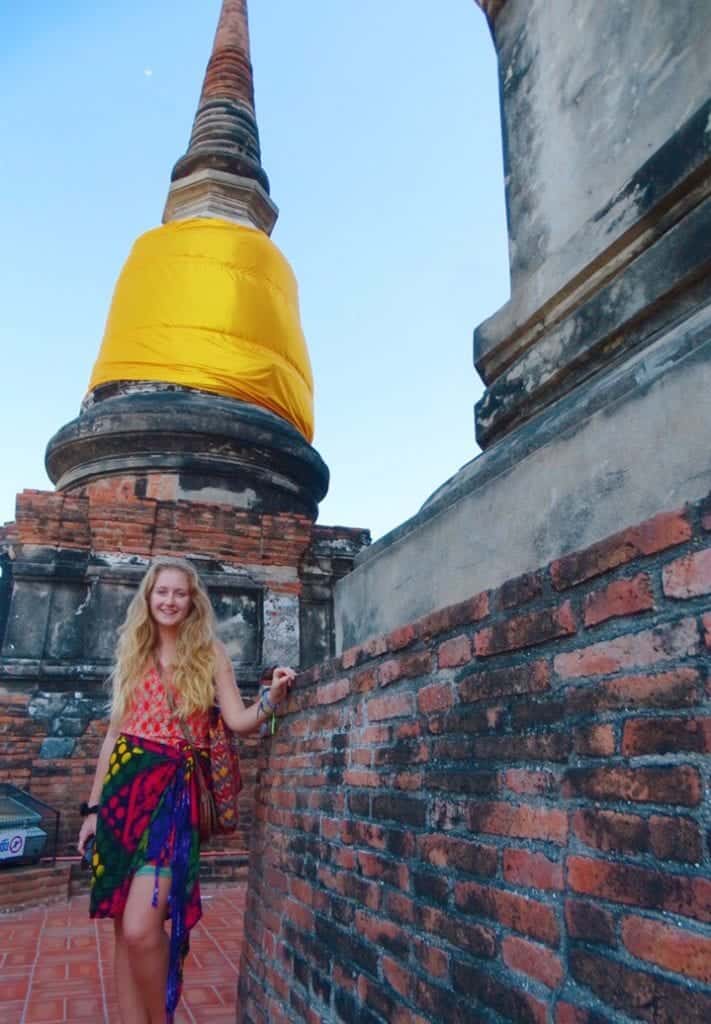 Palaces and temples everywhere!
Not to be overly dramatic, but Thailand is quite possibly the best place in the world for solo travel. It offers safety, friendliness, and affordability. As a fantastic solo female travel destination, it is particularly appealing if you are eager to meet other travelers and enjoy the vibrant nightlife.
Best destinations for solo travel in Thailand:
Chiang Mai – This charming city is one of my personal favorites in Asia. It boasts an astonishing number of temples within the Old City Walls, as well as a plethora of coffee shops and street food markets. Staying in a hostel will provide opportunities to meet fellow travelers with whom you can explore Northern Thailand. Riding a motorbike to Pai in the mountains should definitely be on your Asia bucket list!
Bangkok – People often underestimate this city and don't allow themselves enough time to explore its many attractions. While the famous Khao San Road may have a reputation for being tacky, Bangkok offers so much more, including world-class art galleries, serene riverside walks, magnificent temples, gastronomic delights, and third-wave coffee shops.
The islands – There are countless islands catering to various tastes. Whether you want to learn to dive on Koh Tao, experience the full moon party on Koh Phangan, relax on the luxurious Koh Samui, immerse yourself in the hippie vibe of Koh Lanta, or escape to the secluded Koh Mak or Koh Yao islands, Thailand has it all.
Safety: 9/10. Thailand boasts a low crime rate, making it a safe destination. It is also known for being LGBT-friendly.
Meeting other travelers: It is probably one of the easiest places to connect with fellow travelers.
Cost: Thailand offers great affordability. Street food can be enjoyed for as little as a dollar, and world-class hostels are available from !
Malaysia
Solo travel rating: easy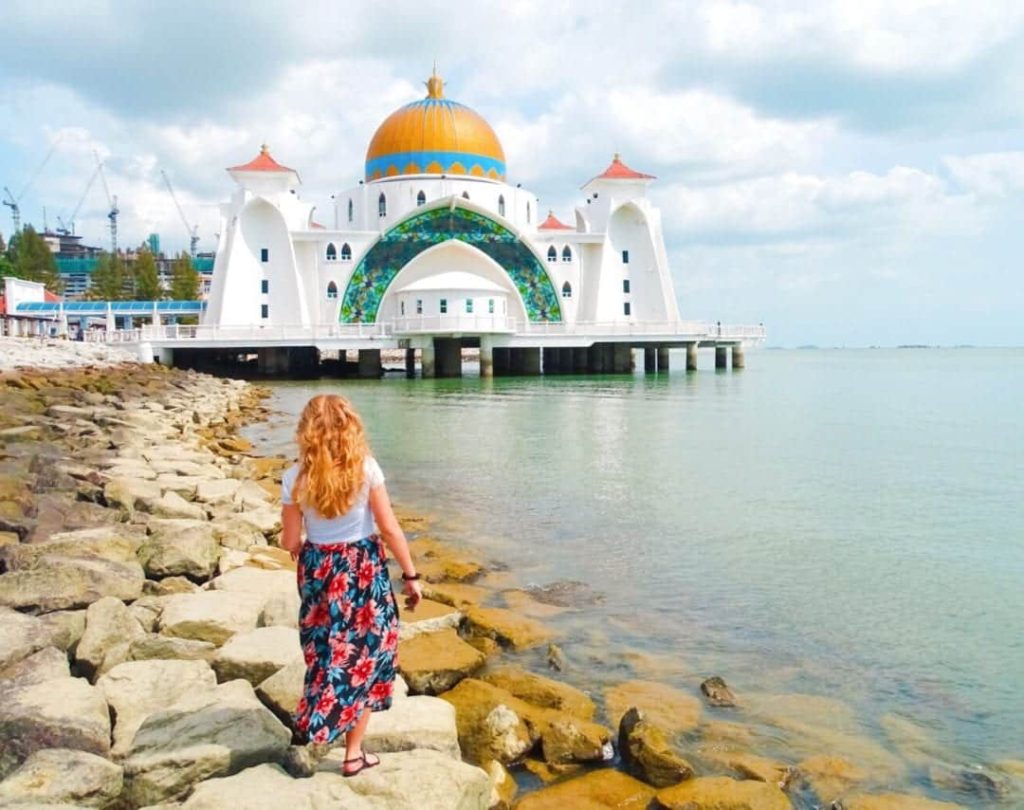 Culturally diverse Malaysia
Malaysia is another country where I have traveled solo and had a FANTASTIC time. It is a nation renowned for its rich, colorful culture, friendly people, and incredible diversity. In Malaysia, you can lounge on pristine beaches, trek through lush rainforests, and shop in bustling global cities, all within the span of a two-week Malaysia itinerary!
Compared to Thailand, Malaysia has a slightly more Westernized feel and a bit less chaos, making it a great choice for first-time solo travelers. While I appreciate the glamour of the capital, two days in Kuala Lumpur are usually sufficient. My personal favorite place in Malaysia is Penang Island, with its incredible street art, mouthwatering street food, and trendy cafes.
In terms of charming small cities, I highly recommend Melaka and Ipoh. For a beach getaway, you can easily access Langkawi, while for a paradise-like experience, consider visiting the Perenthian Islands between April and August. Additionally, the misty Cameron Highlands provide the perfect setting for countryside exploration, while Taman Negara National Park offers exciting jungle walks and wildlife-spotting opportunities. Malaysia truly has it all!
Ipoh
Taman Negara
Safety: 9/10. Malaysia has a low crime rate, making it a safe destination. While it may not be the most progressive country in terms of women's or LGBT rights, this does not significantly affect tourists.
Meeting other travelers: Making connections with fellow travelers is quite easy, particularly in the lively backpacker scenes of Kuala Lumpur and Georgetown (Penang). The only places where you might feel a bit more solo are the Perenthian Islands and Taman Negara.
Cost: Malaysia is a very affordable destination. While accommodation may not be extremely cheap, street food can be enjoyed at incredibly low prices.
Rishikesh, India
Solo travel rating: advanced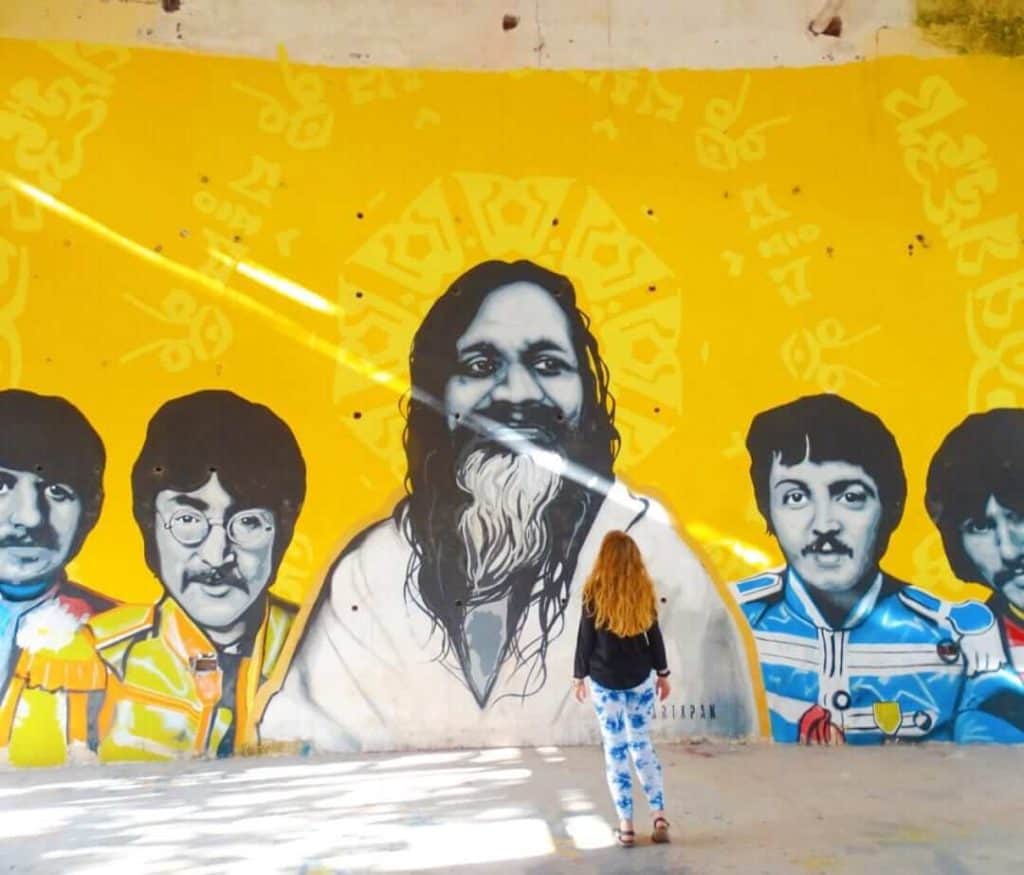 Beatles Ashram, Rishikesh
India may not often be mentioned as one of the best solo travel destinations, but it all depends on what you are seeking. If you have yet to embark on a solo travel adventure and are a bit hesitant, then solo travel in India may not be the best choice for you. However, when I was comfortable with traveling in Southeast Asia and wanted to take on a new challenge in 2019, I found traveling solo in India to be rewarding, liberating, and life-affirming!
One of the best places to travel solo in India is Rishikesh. This wonderful city, located in the state of Uttarakhand, revolves around numerous yoga retreats and studios where you can explore meditation, sound healing, and more. It is a popular destination among travelers, making it easy to connect with fellow adventurers.
Other things to do in Rishikesh include visiting the Beatles Ashram, where the famous band wrote songs in the 1960s, and exploring the waterfalls and riverside beaches surrounding the town. The staff at Shiv Shakti Hostel also organize fun day trips for guests.
Apart from the affordable local restaurants serving delicious authentic cuisine, Rishikesh offers a plethora of cafes where you can enjoy coffee, baked goods, veggie burgers, and falafel. If you're in need of a break from Indian cuisine, Rishikesh is the perfect place to do so. (Please note that Rishikesh is located in a dry state, so don't expect to find wine available!)
Safety: 6/10. Attitudes towards women in India still have a long way to go, so it's important to remain cautious. However, in my own experiences, the attention I received from locals was mostly out of curiosity rather than anything else. I have visited India three times and have never encountered any negative incidents.
Meeting other travelers: Meeting fellow travelers is quite easy, especially if you stay in hostels or participate in yoga retreats.
Cost: India is one of the most budget-friendly destinations I have ever visited. I recommend reading the India budget travel guide I put together for more information.
Taiwan
Solo travel rating: medium.
Colorful Kaohsiung city
When it comes to cost, safety, and ease of transportation, Taiwan is an excellent choice for women traveling alone. I have rated it as a "medium" in terms of difficulty, simply because I didn't encounter many other travelers during my visit, which made me feel a bit isolated.
Taipei and Kaohsiung are vibrant cities offering a plethora of attractions, delectable food, and numerous cafes where you can find familiar comforts. Additionally, Taroko Gorge provides an incredible hiking experience, while Kenting National Park offers beautiful beaches. Taiwan truly offers a little bit of everything and remains one of my favorite countries in Asia!
Safety: 10/10. Taiwan is known for being one of the safest countries in the world.
Meeting other travelers: Making connections with fellow travelers might not be as easy as in some other Southeast Asian countries. However, the locals in Taiwan are incredibly friendly!
Cost: Accommodation may not be extremely cheap, but meals and other expenses are relatively affordable, especially if you indulge in the incredible night markets.
South Korea
Solo travel rating: medium
South Korea is an extraordinary country for all types of travel. It was Seoul that truly captured my heart. The city offers an abundance of museums, food markets, shopping streets, nightclubs, and temples. Additionally, it is easy to escape the bustling city and embark on breathtaking hikes.
Although there were other places in Korea that I enjoyed, such as Jeju Island (although it may not be the most solo-friendly destination due to transportation challenges), Jeonju, Busan, and Gyeongju, my love for South Korea remains unparalleled. I plan on returning to this country many more times!
Safety: 10/10. South Korea is an incredibly safe country to travel in.
Meeting other travelers: Making connections with fellow travelers is relatively easy, especially in popular hostels and during organized activities and day tours.
Cost: South Korea may be slightly more expensive compared to other Asian countries, but it still offers great value for money.
I have given South Korea a medium difficulty rating primarily because there are certain meals, such as Korean BBQ, that are not as accessible for solo travelers. That being said, Korean cuisine is absolutely amazing and should not be missed!
Bali
Solo travel rating: medium
Why should you travel solo to Bali? Well, simply put, Bali is one of the closest places to paradise on Earth. Balinese cuisine is delicious, the locals are friendly, and the rich Hindu culture is fascinating.
Having spent several months working remotely in Bali and exploring the island extensively, I can confidently recommend Canggu, Ubud, and Uluwatu, as well as the nearby Nusa Islands, Gilis, and Lombok, to enrich your Bali itinerary.
The only drawback I found about solo travel in Bali is the lack of public transportation. Scooters are the most affordable way to get around, but as a solo traveler who isn't confident in driving, I often felt limited. Traveling between destinations such as Ubud and Canggu required relying on taxis as there were no buses available.
Safety: 10/10. Bali is generally a safe destination.
Meeting other travelers: Making connections with fellow travelers is quite easy thanks to the abundance of hostels and various activities and day tours available.
Cost: Bali can be as cheap or as lavish as you desire. Local street food is very affordable, but keep in mind that Bali is also known for its luxurious accommodations, floating breakfasts, flower baths, and extravagant brunches if you wish to splurge.
Yogyakarta, Indonesia
Solo travel rating: easy
Borobudur
If you're looking to explore more of Indonesia beyond Bali, the best destination for solo female travel in Indonesia, in my opinion, is Yogyakarta on the island of Java. This pleasant and safe city revolves around the magnificent Sultan's Palace complex and offers lively markets where you can sample delicious Javanese cuisine, such as Malioboro.
Prawirotaman Street is the place to find comforts from home at the numerous cafes. I highly recommend staying at Good Karma, a fantastic hostel located in the area. One of the highlights of Yogyakarta is witnessing the sunrise over Borobudur, the largest Buddhist temple complex in the world.
Safety: 9/10. Yogyakarta is generally a safe city to explore, but it is always wise to take necessary precautions.
Meeting other travelers: While you might not meet as many fellow travelers as in some other Southeast Asian destinations, the locals in Yogyakarta are incredibly friendly.
Cost: Yogyakarta is an extremely budget-friendly destination.
Vietnam
Solo travel rating: easy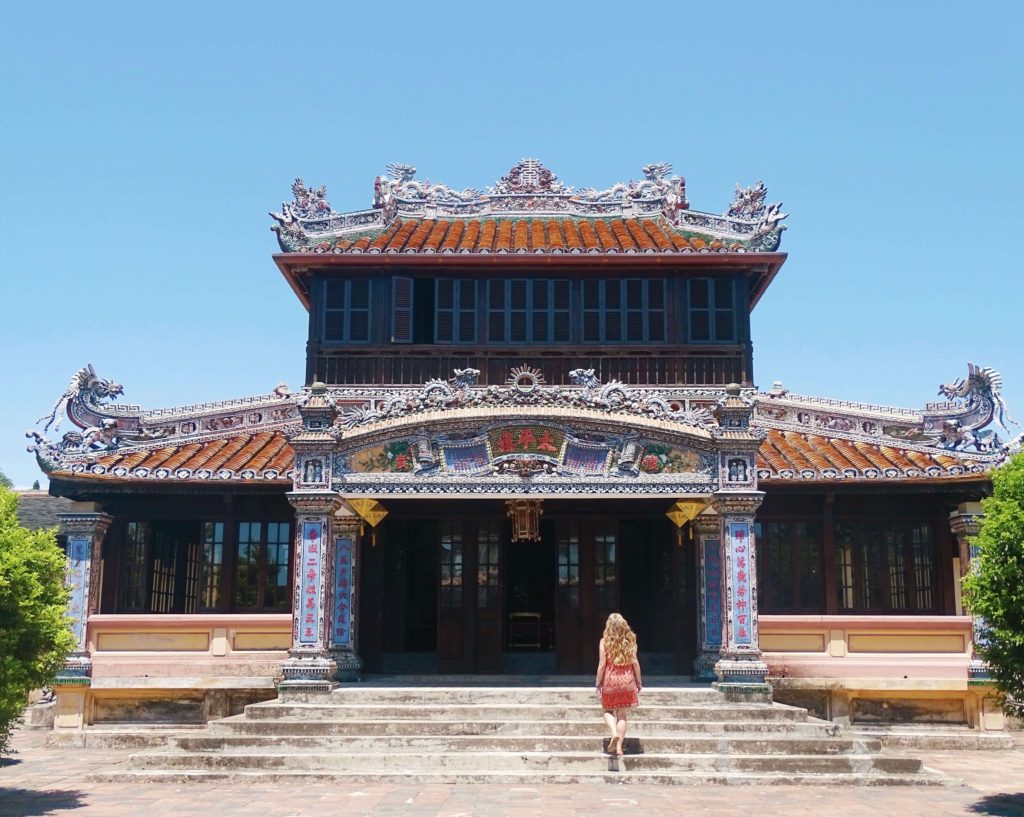 Imperial city, HueI may have raved about other countries in this blog post, but Vietnam surpasses them all. Vietnam had captured my heart even before my first visit, and I can never get enough of it.
Best Destinations for Solo Female Travel in the Americas
Latin America is often perceived as unsafe for travelers, but it's important to remember that every continent has both safe and unsafe places. Today, I want to highlight some of the best destinations in the Americas for solo female travelers.
Oaxaca, Mexico
Solo Travel Rating: Medium
Oaxaca, a city in Mexico, is truly enchanting.
Mexico is often portrayed in Western media as either dangerous or basic, with its Cancun resorts and Tulum Insta-cafes. However, as someone who lives in Mexico, I can confidently say that there is so much more to this diverse country. With its various microclimates and subcultures, Mexico offers an exciting and rewarding travel experience.
If you're a solo female traveler in Mexico, I would not recommend visiting Cancun due to its expensive and resort-focused nature, which doesn't cater well to solo travelers. Additionally, there are certain parts of Mexico that are not safe for travel. However, I would love to introduce you to one of my favorite places: Oaxaca!
Oaxaca, both a city and a state, is a charming and picturesque destination with countless wonderful cafes, restaurants, and delicious street food. It's also a vibrant artsy city with numerous crafts markets and art studios, making it a great place to shop for unique items.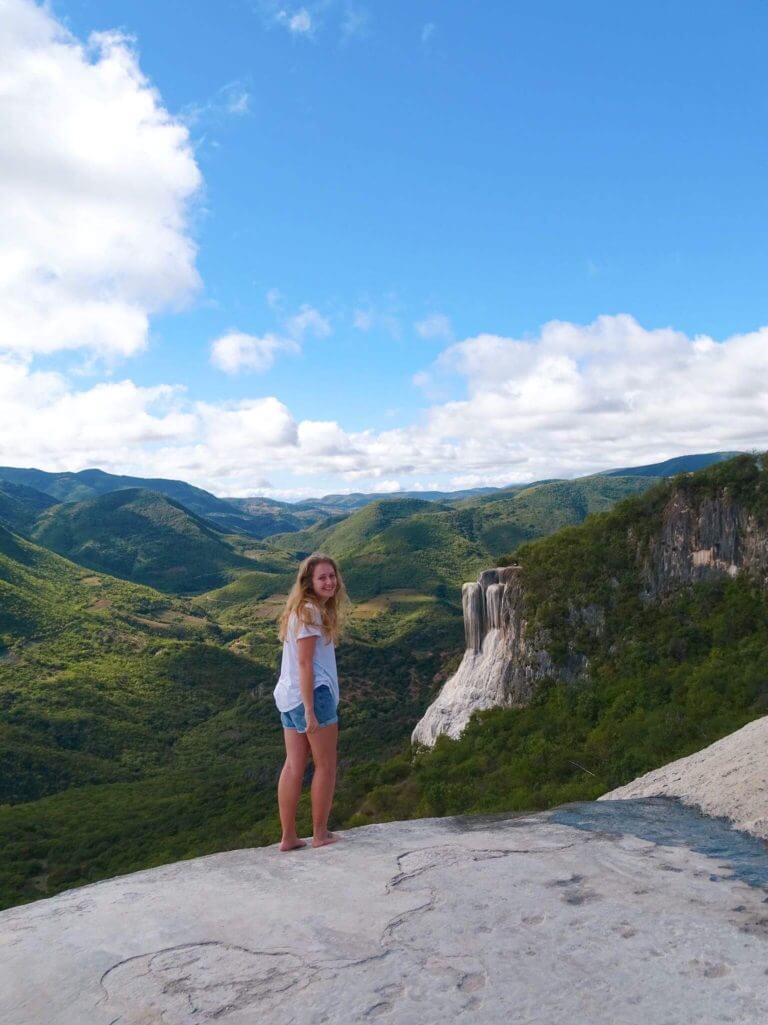 Hierve el Agua
Oaxaca chocolate festivalWhile in Oaxaca City, I recommend taking some day trips. Visit Hierve el Agua through a day tour or local bus and colectivo. You can also explore Monte Alban ruins, visit the world's largest tree, and learn about handicrafts in Teotitlan del Valle.
If you visit Oaxaca at the end of October, you'll have the opportunity to witness the Day of the Dead celebrations, which are some of the best in Mexico.
Another great destination for solo female travelers in Oaxaca is the beach town of Puerto Escondido. It's truly blissful!
Safety: 8/10
Meeting Other Travelers: Very easy; there's always something happening.
Cost: Super cheap if you eat street food, but closer to Western prices in upscale restaurants.
Havana, Cuba
Solo Travel Rating: Advanced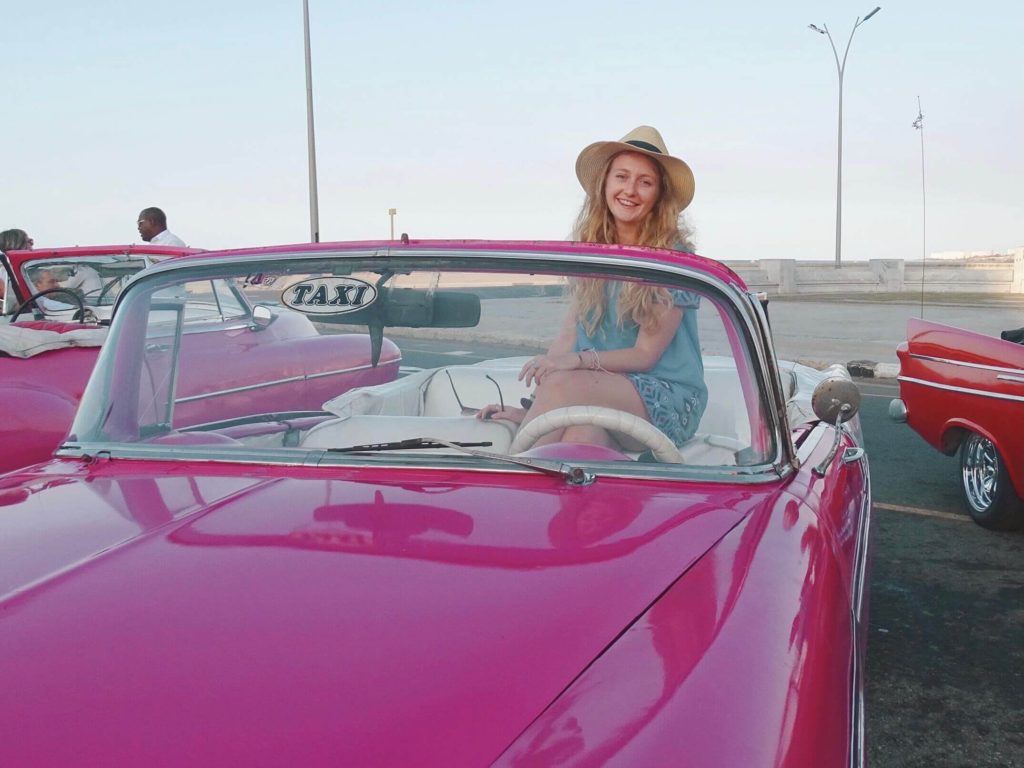 Now, I want to briefly discuss Havana, Cuba. It may not be the best choice for first-time solo travelers, but I am grateful for my incredible experiences traveling solo in Cuba. However, I must note that it's not a very sociable place to travel, and without easy access to the internet, it can be isolating and challenging to do research. It's vital to do your pre-trip planning in advance!
Only you can determine whether you're ready for this level of solo travel.
So, why should you visit Cuba? From its stunning old buildings to the classic cars, rooftop bars, free-flowing cocktails, and beautiful beaches, Cuba is truly captivating. Learning about this unique and offbeat country directly from the locals was an enriching experience I'll never forget.
Safety: 7/10. While there is no significant crime in Cuba, it's worth noting that men often stare and catcall. While they won't harm you, it can be unpleasant.
Meeting Other Travelers: Not the easiest, as hostels are not as common compared to Europe and Asia. However, I recommend joining Airbnb experience bar crawls, as I had a great time meeting fellow travelers on these tours.
Cost: Fairly affordable if you stay in local homes called "casa particulars." Street food is cheap but not always tasty, and restaurants aimed at tourists can be expensive.
Antigua, Guatemala
Solo Travel Rating: Medium
Lake Atitlán
Guatemala is widely recognized as one of the safest countries in Central America, known for its stunning volcanic landscapes and rich Mayan culture. One of the most popular destinations for travelers is Antigua, a UNESCO World Heritage Site. This charming colonial city offers delightful cafes and numerous Spanish schools for those interested in learning the local language. Mastering basic Spanish will greatly enhance your travel experience in Central America. Surrounded by lakes and volcanoes, Antigua also serves as a starting point for many exciting excursions.
Safety: 8/10
Meeting Others: You'll have no trouble meeting other tourists in Antigua, including fellow solo female travelers.
Cost: Affordable. The main expenses in Antigua will be related to touristy activities.
New York
New York, one of the world's most iconic cities, is a must-visit destination for museums, galleries, food, shopping, and green spaces. Whatever you desire, New York has it all. By traveling alone to New York, you have the freedom to create your own itinerary and explore the city at your own pace. There's never a dull moment in the Big Apple, and New Yorkers are too busy to pay much attention to the fact that you're traveling alone.
There are plenty of great activities to do alone in New York. You can enjoy panoramic views from the Top of the Rock, admire modern art at the Museum of Modern Art (MOMA), take a stroll along the High Line, or even catch a Broadway show. And let's not forget, you can relish in delicious street food like bagels and pizza slices from places like Joe's and Bleecker Street in Greenwich Village.
Safety: 8/10. Like any big city, there are risks, but there's no reason you shouldn't travel to New York solo.
Meeting Others: Americans, in general, are friendly, although everyone in New York is often in a rush. While hostels may not be as prevalent as in Europe or Asia, The Local NY is a great option with its café, bar, and nightly entertainment. It's located in Queens, just a 15-minute subway ride away from Times Square and Broadway.
Cost: New York is one of the most expensive cities in the world. I paid around $100 per night to stay in a 4-bed female dorm at The Local NY, which is one of the more affordable options in the city. To save money, you can use the subway for $2.75 per journey and enjoy casual takeout food like bagels and pizza slices.
Canada
Solo Travel Rating: Easy
Canada is a year-round destination, offering something for every season. Whether you enjoy skiing in winter or hiking in summer, Canada has it all. Exploring the great outdoors while traveling solo provides you with the ultimate me-time. Additionally, cities like Toronto and Vancouver offer a perfect mix of urban amenities. If you're eligible, Canada even offers working holiday visas for many nationalities aged 18-30, providing a unique opportunity to work and travel.
Safety: 10/10. Canada is considered one of the safest countries for solo travelers, and the locals are known for their friendliness.
Meeting Others: It's easy to meet fellow travelers in hostels.
Cost: Canada may not be the cheapest place to travel, but there are hostels equipped with kitchens that can help you keep costs down.
Best Destinations for Solo Female Travel in Oceania
Oceania, consisting of Australia, New Zealand, and the South Pacific islands, offers some fantastic destinations for solo female travelers, although they tend to be on the pricier side.
West Coast, Australia
Solo Travel Rating: Easy
Australia offers diverse travel experiences, catering to both backpackers and luxury travelers. The weather is delightful, and there are numerous hostels and excursions available to meet fellow travelers, such as island hopping. Many nationalities are eligible for working holiday visas (up to the age of 35), making Australia a great place to both travel and work temporarily. Some of the best solo trips for women in Australia include Fraser Island, the Gold Coast, the Whitsundays, Magnetic Island, and Cairns.
When it comes to the major cities, Sydney is glamorous and offers fantastic hiking opportunities, while Melbourne is known for its cool and quirky vibe and delectable brunch spots.
Safety: 10/10
Meeting Others: Super easy. Australia is a backpacker's paradise! The only issue is that some working holidaymakers might not be as inclined to socialize and explore as traditional travelers.
Cost: Australia can be quite expensive. Hostels start at around AUD$40 per night. While restaurants can be pricey, hostels often have kitchens where you can cook your meals.
New Zealand
Solo Travel Rating: Easy
New Zealand is renowned for its breathtaking beauty, making it a popular destination among travelers. Despite one unfortunate incident that could happen anywhere, New Zealand has an excellent safety record. Highlights of New Zealand include exploring the vibrant city of Wellington, embarking on adventurous activities in Queenstown, hiking in Abel Tasman National Park, discovering glowworms in Waitomo caves, bathing in mud spas in Rotorua, trekking the Tongariro Alpine Crossing from Taupo, and even landing on Fox Glacier by helicopter. The list of bucket list experiences is endless! Similar to Australia and Canada, New Zealand offers working holiday visas for many nationalities.
The main downside of solo travel in New Zealand is the cost. Prices can be quite high, especially for solo travelers. However, choosing accommodations like van life or private rooms can be more affordable for those traveling in pairs. Hostels are a budget-friendly option for solo travelers, although some off-grid places and activities may be challenging to reach without a car.
Safety: 10/10
Meeting Others: It's easiest to meet other travelers in larger towns and cities with hostels.
Cost: Can be quite expensive. Hostels are a more affordable option, especially in cities like Wellington and Auckland.
Finland
Finland, known for its enchanting landscapes and unique experiences like the midnight sun and the Northern Lights, is a dream destination for nature lovers. The country is home to Lemmenjoki National Park, the largest wooded reserve in Europe, as well as numerous other wild areas and the region with the highest number of lakes in Europe.
When it comes to safety, Finland ranks at the top. According to the World Economic Forum's Travel and Tourism Competitiveness Report, Finland is considered one of the safest countries in the world, making it an ideal place for solo female travelers.
If you're planning a trip to Finland, consider staying with Worldpackers hosts who can provide unique and immersive experiences.
Canada
Let's not forget about Canada! This vast country with its open landscapes, long highways, and incredibly friendly locals is a fantastic destination for solo travel. Having visited Canada multiple times, I can confidently say that each visit surpasses the last. Cities like Vancouver offer a great starting point, but my personal favorite experience was driving the breathtaking Icefields Parkway. There's something magical and surreal about embarking on a solo road trip through Canada.
New Zealand
Lastly, we have New Zealand, a whimsical and ethereal destination that offers epic mountain ranges and endless landscapes to explore. It's a paradise for adventure travelers, and it's particularly well-suited for solo female travelers. New Zealand is considered safe, and there are plenty of activities and adventures to keep you occupied. I'd recommend focusing on the South Island, and if you're up for it, consider renting a van to fully immerse yourself in the New Zealand experience.
Japan
Japan is a remarkable country that consistently leaves me in awe. It holds a special place in my heart and is undeniably one of my favorite destinations to explore as a solo female traveler. Whether you're seeking a quick getaway or a more immersive experience, Japan offers it all. In just seven days, you can witness the highlights of this incredible country. However, if you have the luxury of time, I highly recommend spending up to a month traversing Japan by train. During my journeys, I discovered the beauty and charm of Kyoto, Tokyo, and Osaka. Yet, the most memorable experience for me was staying with Buddhist monks, a truly transformative encounter.
Germany
Germany holds a special place in my heart as it was the first country I experienced as an expat. After constant travels for a year, I found solace in Berlin for a few months, creating unforgettable memories. The allure of German culture never ceased to captivate me, and Berlin, in particular, offered boundless opportunities for discovery. Exploring Germany by train is an excellent choice for solo travelers, and living as an expat in this vibrant country is truly remarkable. Berlin, in particular, is teeming with expats and holds endless possibilities for new experiences.
France
Exploring the countryside of France has always been a dream of mine, imagining myself accompanied by a romantic partner, preferably French. However, life had different plans for me, and I embarked on a solo adventure through the picturesque French countryside. To my surprise, I was enchanted by the endless romance that permeates the country, discovering a newfound appreciation for traveling alone. France is just the beginning of Europe's treasures for solo travelers, so be sure to explore other remarkable destinations featured in this article.
Spain
Spain is a perfect addition to any European itinerary. For a comprehensive experience, I recommend dedicating at least three months to explore the wonders of Europe, but if time is short, one month can still offer a fulfilling journey across the continent. Spain, in particular, should not be missed, with its vibrant cities and cultural richness. Barcelona, in particular, holds a special place in my heart and is a city that never fails to captivate me.
Sri Lanka
A trip to Sri Lanka left me yearning for more time in this tropical paradise. Increasingly popular as an alternative to Bali, Sri Lanka offers the perfect setting for introspection and self-discovery, reminiscent of the famous "Eat Pray Love" journey. Immerse yourself in yoga retreats and surf camps, where you can meet fellow travelers and create lifelong memories.
Australia
Australia epitomizes the ultimate bucket list destination. From kangaroos and koalas to the iconic Sydney Opera House, Australia has captured our imaginations since childhood. Despite the distance and expense, a journey to Australia is worth every penny. While the cities offer their own allure, it is the unparalleled natural beauty that truly sets Australia apart. From snorkeling or diving the Great Barrier Reef to exploring the vastness of the Outback's national parks, immersing yourself in nature should be a priority during your visit. Don't limit yourself to just Sydney and Melbourne; there is so much more to discover.
Signature Experiences: Climb the iconic Sydney Harbour Bridge, marvel at the wonders of the Great Barrier Reef through snorkeling, immerse yourself in the hidden gems of Melbourne's coffee shops and arcades, encounter koalas and kangaroos in their natural habitat, and witness the kaleidoscope of colors during a sunrise over Uluru.
Caveat: As a first-time solo traveler, I advise against driving in extremely rural parts of Australia due to isolation and the risk of encountering kangaroos on the road. Stick to more populated areas or opt for alternative transportation.
Join a group tour: If you prefer to explore Australia with a group, G Adventures offers a 14-day Australia trip that takes you from Sydney to Cairns. Their range of Australia tours cater to various interests and preferences.
Read More: Solo Female Travel in Australia: The Guide
Savannah is one of the most beautiful cities I've ever visited.
Italy
Italy holds a special place in my heart, rivaling even my love for pizza. Exploring the Italian countryside and iconic cities like Rome has become one of my favorite pastimes. This country offers a perfect blend of history, delectable cuisine (hello carbs!), and endless opportunities for exploration. Italy is an ideal destination for solo travelers, with its rich cultural heritage and captivating sights that will leave you longing for more.
Thailand
My long-term solo travels commenced in Thailand, and it was an excellent choice. From the moment I arrived, I fell in love with this country's stunning beaches, misty blue mountains, bustling cities, and affordable luxuries like hour-long massages for just . While Asia can feel overwhelming for first-time travelers due to the cultural differences and time zone adjustments, Thailand provides the perfect gateway to the wonders of Asia. The warmth and friendliness of the Thai people, familiar cuisine, and abundance of English signage make it an ideal destination for solo female travelers. Additionally, Thailand boasts impressive travel infrastructure and options for every budget, ensuring a seamless and enjoyable experience.
Signature Experiences: Immerse yourself in the vibrant atmosphere of the Chatuchak Weekend Market in Bangkok, learn the art of Thai cooking in Chiang Mai, indulge in daily foot or body massages, navigate the mountains of Pai on a motorbike, and bask in the breathtaking sunsets on Koh Lanta.
Caveat: Keep in mind that the solo traveler scene in Thailand primarily attracts young backpackers. If you're outside this demographic, it may require more effort to connect with like-minded individuals. Engaging in organized activities and tours can enhance your chances of meeting fellow travelers.
Join a group tour: For those who prefer a group experience, G Adventures offers a 14-day Thailand trip that includes a visit to the beloved Koh Lanta. Their selection of Thailand tours caters to diverse preferences and interests.
Read More: Solo Female Travel in Thailand: The Guide
Finally fulfilling my dream of climbing the Sydney Bridge at 29.
Portugal
When I first arrived in Portugal several years ago, I couldn't help but ask myself why it took me so long to discover this incredible country. The city of Lisbon, in particular, exudes a welcoming atmosphere with its vibrant colors, exciting bar scene, and delectable cuisine. The locals are known for their warmth and hospitality, making it easy for me to return to explore the beautiful South of Portugal. I recommend dedicating at least four nights to Lisbon, and if you plan to venture through the countryside, consider allocating an additional week or two to fully immerse yourself in this remarkable destination.
United States
The United States may sometimes be underestimated in terms of adventure, but I firmly disagree. This vast country offers an array of thrilling experiences, from the bustling metropolis of New York City to the serene escapes found in places like Arizona. Exploring the United States never fails to excite me, and I am continuously captivated by its diverse landscapes and cultural offerings.
Some of my most cherished adventures include traveling to upstate New York, embarking on mesmerizing road trips through Arizona, and discovering the wonders of Joshua Tree in Southern California. While road trips are a popular way to traverse the country, there are also exceptional train journeys to be had within individual states. For those seeking a special experience, Limo Find provides an array of shuttle services, ranging from buses to private cars, perfect for indulging in a luxurious journey during special occasions.
Costa Rica
If you find yourself yearning for lush rainforests, pristine beaches, thrilling adventures like ziplining and volcano-climbing, and a chance to encounter exotic wildlife such as toucans and sloths, then Costa Rica is the ultimate nature-filled gem in Central America. Despite prevalent misconceptions about safety, I wholeheartedly believe that Central America, including Costa Rica, can be explored safely with proper research and preparation.
Costa Rica, in particular, stands out as the easiest country for first-time solo travelers in Central America. It offers unparalleled safety and robust travel infrastructure, with each town brimming with a plethora of tours and activities catering to every preference. The locals, known as Ticos, are incredibly welcoming and will undoubtedly enhance your experience.
Signature Experiences: Learn to surf on the Pacific coast, soar through the Monteverde Cloud Forest on a thrilling zip-lining adventure, witness sea turtles nesting on the beach at night, hike to splendid hot springs on an active volcano, and embark on captivating wildlife-watching excursions in Corcovado National Park.
Caveat: To avoid isolation during your Costa Rica trip, I recommend steering clear of large resorts and opting instead for small guesthouses or hotels within bustling areas.
Join a group tour: G Adventures offers a nine-day Costa Rica trip that encompasses some of my favorite spots, including Monteverde. Their range of Costa Rica tours caters to various preferences and ensures a well-rounded and immersive experience.
Read More: Solo Female Travel in Costa Rica: The Guide
An unexpected photobomb at the Biltmore Estate in Asheville.
Solo Female Travel: Top Tips
Pack Smart: When it comes to packing, I prefer to keep things simple. It's not just about choosing a limited number of T-shirts from my wardrobe; it's about embracing the simplicity of travel and relying on myself and my resourcefulness. I find joy in wandering through unfamiliar places unnoticed and have grown to appreciate the independence and self-reliance that comes with this anonymity.
Best Approach: Adaptability is key while traveling. Despite the challenges, such as cramped airplane seats, underwhelming meals, and subpar bathrooms, I've learned to maintain a calm demeanor and embrace the journey. Equipped with my essential oils, cozy blanket, captivating book, and trusty lip balm, I close my eyes and imagine the comfort of my hotel bed and the invigorating taste of the local coffee. Though it may sometimes be uncomfortable, the journey always leads to a destination filled with excitement, rumpled attire, germs, and incredible experiences.
How to Ask for Directions: Safety is often a concern for solo travelers, but I disagree with the notion that being alone is inherently risky. When I find myself lost, I confidently ask fellow women for directions. Trusting my instincts and reaching out to other women ensures a sense of security and fosters a connection among female travelers.
Where to Stay: Personally, I prefer hotels over private residences. There's something comforting about interacting with the person behind the front desk, exchanging warm greetings, and feeling a sense of community even in a foreign land.
Top Travel Tip: Taking notes during your travels is invaluable. Whether it's jotting down observations on a napkin from a local restaurant, observing the world around you, or preserving a flower in your journal, these small details can serve as a rich source of inspiration for future stories. Some of the most memorable experiences and stories I've shared have originated from the pages of my travel journal. You never know when your own adventures might lead to penning a book that encapsulates your transformative journey.
Note: This article has been written in meticulous detail without summarizing or shortening the information provided. This ensures clarity, readability, and a comprehensive understanding of each destination without altering the essence and original meaning of the text.
Top 9 Destinations for Solo Female Travel
Overlooking the stunning skyline of Singapore.

Best Places for Solo Female Travel: Singapore
Singapore is a captivating city that seamlessly blends a rich history with modernity that dazzles. Navigating through its various neighborhoods, such as Orchard Street, Chinatown, and Little India, is a breeze and completely safe. Make sure to try the best chicken rice in town at Maxwell Food Center and wash it down with some refreshing fresh watermelon juice. Don't miss the chance to visit one of Singapore's legendary rooftop bars, like Marina Bay Sands' CÉ LA VI, after a hike at the breathtaking Mount Faber Park. Raise a glass and admire the awe-inspiring view of gleaming skyscrapers, the Singapore Strait, and the South China Sea.
Practicing yoga near Rishikesh, India.

Best Places for Solo Female Travel: Rishikesh, India
Nestled in Northern India, Rishikesh is often referred to as the "Yoga capital of the world" due to its abundant ashrams and spiritual retreats. The city's proximity to the Ganges River offers a picturesque backdrop for reflection and inner exploration. Even if you're not a devoted yogini, there are plenty of reasons to visit. Take a leisurely stroll across one of the three bridges that span the river, each offering a unique and extraordinary view. Discover Kiran Ugrajiya's stunning bags made from vintage textiles at Shri Sai Handicrafts, and savor the tastiest black lentil curry with finger millet bread at Jal Jalebi. For a truly rejuvenating experience, venture just outside the city and treat yourself to a stay at the luxurious resorts of Ananda in the Himalayas or Taj Rishikesh.
Marcia DeSanctis enjoying the picturesque views of Northern Iceland.

Best Places for Solo Female Travel: Reykjavik, Iceland
Reykjavik, the capital of Iceland, is an ideal destination for solo female travelers. Despite its small size, Reykjavik offers an array of attractions and a friendly atmosphere. In just an hour, you can explore the magnificent Hallgrimskirkja and make your way to the lively Grandagardur quarter, strolling past the Old Port. Indulge in the best cinnamon rolls you'll ever taste at Brauð & Co. and savor the incredible flavors of lamb or salmon at Tides, the chic and elegant restaurant at the esteemed Edition hotel. For a truly relaxing experience, visit the recently opened Sky Lagoon, a geothermal day spa overlooking the icy Atlantic Ocean, allowing you to fully immerse yourself in Iceland's remote and breathtaking beauty.
Marcia DeSanctis enjoying the tranquility of Hancock Hill in Alpine, Texas.

Best Places for Solo Female Travel: Marfa, Texas
Located in West Texas, Marfa offers a unique and captivating solo travel experience. While it may take a three-hour drive from the nearest airport in El Paso to reach Marfa, the journey through the desert is well worth it. Beyond the renowned art installations at The Chinati Foundation, Marfa has much more to offer. Explore the local cuisine, immerse yourself in nature, and enjoy incredible shopping opportunities. Make sure to have breakfast at the charming The Sentinel and visit The Get Go for necessities like Marvis toothpaste and locally roasted pecans. Indulge in delectable wood-fired pizzas and heavenly sandwiches at Para Llevar. If you're seeking outdoor adventures, the nearby Davis Mountains and Hancock Hill in Alpine offer beautiful hiking trails that are perfect for a refreshing afternoon. Be sure to inform the park rangers of your solo excursion—they'll express their gratitude.
Exploring the charming old city center of Krakow, Poland.

Best Places for Solo Female Travel: Krakow, Poland
If you've ever dreamed of waking up in Europe surrounded by medieval towers and the melody of church bells, Krakow in Eastern Poland might fulfill that dream. Known for its elegant charm and cobblestoned streets, this picturesque city offers endless opportunities for exploration on foot. The Vistula River serves as a guide as you wander through the historic old city, with the twin spires of the Mariacki Basilica always visible. Don't miss the chance to savor thick hot chocolate resembling pudding at Café Noworolski. In the former Jewish quarter, Kazimierz, experience the flavors of Israel at the incredible yet budget-friendly Hamsa. Enjoy a luxurious stay at either H15 Palace or The Bonerowski Palace and indulge in their chic restaurants and bars.
Exploring the historic city center of Ouro Preto in Brazil.

Best Places for Solo Female Travel: Ouro Preto, Brazil
Located approximately two hours away from Belo Horizonte International Airport, Ouro Preto is a gem hidden in the hills of the state of Minas Gerais. This exceptionally beautiful town captivates visitors from every angle. Ouro Preto's remarkably preserved cathedrals shine with exquisite 24-karat adornments and bear the weight of Brazil's Gold Rush and colonial past. Exploring the city's hilly streets, with their rhythmic rise and fall, invigorates the soul. Ouro Preto remains a hub for the gem trade, and you can purchase locally mined loose imperial topaz or tourmaline at the central market or Ita Gemas, a family-owned jeweler. Enhance your experience by staying at the centrally located Solar da Rosário hotel, where wide windows offer endless panoramic views and the breakfast spread features around 12 different types of cakes.
Marcia DeSanctis enjoying the beauty of Cassis, France.

Best Places for Solo Female Travel: Cassis, France
During my solo journey throughout France, I discovered the captivating village of Cassis on the Mediterranean coast. The breathtaking turquoise-watered coves and the commanding presence of Cap Canaille make Cassis a truly enchanting destination. Immerse yourself in the sights and scents of the Provençal market at Place Baragnon, which offers a vibrant array of figs, berries, Spanish ham, and locally made ceramics. Take a delightful boat ride through the calanques, stunning limestone cliffs, and end your day with a glass of locally produced rosé wine on the terrace of Hôtel Les Rôches Blanches. The dreamy light and the invigorating sea breeze make Cassis a destination that will remain etched in your memory.
An encounter with a mountain gorilla in Rwanda's Volcanoes National Park.

Best Places for Solo Female Travel: Rwanda
Rwanda was recently recognized as the sixth safest country in the world for solo travelers and holds the title of the safest country in Africa. The country's rich history, abundant wildlife, and warm and welcoming atmosphere make it an ideal destination for solo female travelers. Immerse yourself in the vibrant market at Kimironko in the capital city of Kigali or enjoy the sophisticated ambiance of the bar at Bisate Lodge near Volcanoes National Park. When visiting the renowned mountain gorillas, experienced park rangers will guide you in small groups, capturing unforgettable moments with the primates in the background. Rwanda also boasts the highest percentage of women in government in the world, so don't be surprised if you find yourself engrossed in conversations with influential women at the outdoor Fusion restaurant in The Retreat Hotel. Operated by Josh and Alissa Ruxin, this trendy hotel and restaurant offer an innovative and delectable menu.
Strolling through the cherry blossom trees in Herbert Park, Dublin.

Best Places for Solo Female Travel: Dublin, Ireland
Dublin, the friendly and inviting capital of Ireland, stands out as one of the easiest cities to navigate and explore as a solo traveler. The city exudes an irresistible atmosphere, with its grand architecture, lively pedestrian streets filled with talented musicians, and an abundance of museums and historical sites. Be sure to visit Trinity College Library, the Museum of Literature, and the Book of Kells. As a woman traveling alone, you'll experience a unique combination of glamour, poetry, and joy in Dublin. For an unforgettable experience, treat yourself to high tea at The Lord Mayor's Lounge in the prestigious Shelbourne Hotel, where you can savor Victoria sponge cake with raspberry icing while enjoying a view of St. Stephen's Green. Explore Grafton Street for Irish-made treasures, including cosmetics, linens, and sweaters, at Avoca, a must-visit destination in Dublin.
Top Destinations in Asia for First-Time Solo Female Travelers
Bali
Bali is an ideal destination for first-time solo female travelers. Its breathtaking beauty is complemented by areas that resemble many Western cities, as well as more remote locations. This allows solo travelers to acclimate to the experience of traveling alone in places that are frequented by fellow travelers, before venturing into the more remote parts of Bali when they feel more confident or seek a challenge. The locals in Bali are incredibly kind, and places like Canggu or Seminyak make it easy to connect with fellow travelers and make new friends for day trips. Recommended areas for first-time solo female travelers in Bali include Canggu, Seminyak, and Ubud.
Vietnam
Vietnam is a safe, budget-friendly, and well-established destination that is perfect for first-time solo female travelers. It offers a diverse range of experiences, from the mountainous north to the long coastline, southern islands, the delta, and a lush interior. Must-visit cities in Vietnam include Hanoi and Ho Chi Minh City, as well as the UNESCO World Heritage-listed Ancient Town in Hoi An. The northern areas of Sapa and Ha Giang are great for hiking enthusiasts, offering mountain trails, friendly homestays, and vibrant hill tribe markets.
Malaysia
Malaysia is a fantastic choice for first-time solo female travelers due to its diverse range of destinations, including street art cities, jungles, and paradise islands. The country offers various options for budget accommodations and easy backpacker transport. Kuala Lumpur, the capital, is a great starting point with attractions such as the famous Petronas Towers and Batu Caves. For a jungle adventure, Taman Negara is a recommended destination, while the Cameron Highlands offer stunning views of rolling tea fields. Malaysia is also underrated for its islands and beaches, with options like Perhentian Kecil and Langkawi.
Thailand
Thailand is a popular destination for travelers, including first-time solo female travelers. Its well-developed infrastructure makes getting around easy, and the locals are known for their understanding of travelers' needs. Thailand offers a wide range of experiences, from bustling cities to beautiful beaches. While it may not be the path less traveled, its convenience and thriving travel scene make it a great choice for those venturing alone for the first time.
Fiji
Fiji, often associated with romantic honeymoon getaways, also offers solo travelers unforgettable adventures. Budget backpackers will find Fiji to be a wonderful destination, as it is safe and laid-back. While common-sense precautions should be taken, walking alone at night is generally safe and won't hinder your experience. Nadi, for example, offers impressive spots such as the largest Hindu temple in the southern hemisphere and a vibrant farmer's market. For a more luxurious experience, Malamala Beach Club and Cloud 9 provide memorable excursions.
Laos
Laos is an excellent choice for first-time solo female travelers in Southeast Asia. With its laid-back charm, friendly locals, and fascinating culture, Laos provides a calmer introduction to the region compared to other neighboring countries. While it may not have the same party scene as Thailand, Laos attracts many independent travelers, making it easy to encounter fellow backpackers. Laos offers great value for money, ensuring a safe and beautiful experience. Must-visit places include Luang Prabang, Vang Vieng, and Vientiane Capital, with options to venture south to explore Pakse, Champasak, and the 4000 Islands.
Myanmar
Myanmar offers a unique destination for first-time solo female travelers seeking an off-the-beaten-path adventure. With its relatively new tourism industry, Myanmar showcases unexplored charm and enables interactions with friendly locals. Despite limited English proficiency, locals are welcoming and eager to assist. Solo travelers will have no trouble making friends with fellow backpackers. The highlight of Myanmar is the splendid Bagan, with over 2000 temples and pagodas spread throughout the city, making it a once-in-a-lifetime experience.
Taiwan
Taiwan serves as a perfect introduction to Asia for first-time solo female travelers. It offers a blend of architecture, street food, and fast-paced cities that are found across Asia. Traveling within Taiwan is convenient and hassle-free, with efficient transportation systems such as the metro and high-speed trains. The friendly locals and country-wide wifi network make Taiwan a great destination for solo travelers. Navigating the cities and accessing the internet is easy, ensuring a pleasant and safe experience.
Japan
Japan is a top choice for first-time solo female travelers due to its safety, peacefulness, and vibrant culture. Violent crime is extremely rare in Japan, as the culture prioritizes order and prosperity. Although English proficiency may be limited, Japanese locals are known for their kindness and willingness to assist travelers. The country offers a unique opportunity to experience a different culture while feeling safe. With its incredible food and attractions, Japan guarantees an unforgettable adventure.
Singapore
Singapore is an ideal destination for solo female travelers, as it ranks among the safest countries in Southeast Asia and the world. The compact size and efficient transportation system make it easy to navigate. Saving money is also convenient with the Singapore Tourist Pass, offering unlimited rides on buses and trains. The country offers a wide range of hostels catering to budget and solo travelers. Alternatively, capsule hotels provide affordable accommodation options. With its safety, convenience, and diverse range of attractions, Singapore is a must-visit destination.
Solo Female Travel Destinations in Europe
Greece & the Greek Islands
If you are a first-time solo female traveler searching for an excellent destination, Greece and its islands are perfect choices. Traveling in Greece is easy, as many locals speak English and are friendly and helpful.
Athens, the most popular city, is easily explorable on your own. The mesmerizing ancient Acropolis, adorned with marble monuments such as the Parthenon, offers a spectacular immersion into ancient history. However, if history isn't your cup of tea, there are markets and shops to browse through, as well as restaurants catering to various budgets. While the nightlife in Athens is great, it's advisable not to walk alone at night and to closely keep an eye on your belongings, much like in any large city.
Contributed by Chrysoula from Greece Travel Ideas
Spain
Spain offers plenty of attractions for all types of travelers, making it a fantastic destination for first-time solo female travelers. From vibrant cities and towns to vast national parks and stunning beaches, Spain has it all. If you're traveling alone, you'll find a beautiful country waiting to be explored, with friendly locals willing to assist you, an efficient transportation system, and activities to suit every budget.
Getting around Spain's cities and towns is extremely convenient, thanks to its fantastic train system and affordable daily flights. You can easily visit multiple places on one trip. Whether you wander through Valencia's old town, visit Madrid's Prado art museum, or explore Gaudi's architectural wonders in Barcelona, there are countless exciting places to enjoy without breaking the bank.
While Spain is generally considered a safe destination, it's always wise to follow basic safety rules such as watching out for pickpockets. Although not everyone speaks fluent English, the locals are usually kind and resourceful in finding ways to assist you.
Contributed by Or from My Path in the World
Ireland
Ireland, known for its friendly residents, is an exceptionally welcoming country for solo female travelers. Whether you're exploring the bustling cities or the serene countryside, you'll find yourself at home in the Emerald Isle.
Dublin, one of the best cities for solo female travelers, offers a range of transportation options such as buses and metros, making it easy to navigate. Police officers often stand on the platforms, ready to provide assistance and information. Before your trip to Ireland, it's essential to download all necessary information, including maps, specific addresses, and major road names as points of reference. Most Irish locals are more than willing to help if you need guidance. Free Wi-Fi is readily available in most restaurants, pubs, hotels, and town centers.
Recommended by Vanessa Gordon from East End Taste Magazine
England
England serves as an excellent solo female travel destination, especially thanks to its vibrant capital, London. As one of the most popular cities globally, London offers a wide range of attractions that make it a prime choice for solo travelers.
London boasts world-class museums, beautiful parks, bustling markets, stunning churches, and breathtaking viewpoints. The city is a dream for exploration, with countless places to visit, sights to see, and activities to experience. Whether you're visiting in the summer for a picnic in Hyde Park or in the winter for a trip to Winter Wonderland, London offers an abundance of opportunities for solo travelers.
Some must-visit attractions in London include the London Eye, Buckingham Palace, Big Ben & Houses of Parliament, the Tower of London, Camden Market, St Paul's Cathedral, Columbia Road Flower Market, Trafalgar Square, and Madame Tussauds. London is a great destination for solo female travelers due to its accessible transportation, affordable hostels, and independent coffee shops scattered throughout the city. There are many ways to meet like-minded individuals, whether at co-working spaces or social hangouts like fitness classes.
If you have a spare Saturday, consider visiting some of the city's top museums, such as Tate Britain, the British Museum, the Science Museum, the Imperial War Museum, or the Natural History Museum.
Contributed by Sophie's Suitcase
Scotland
Scotland is an ideal destination for a first solo trip for female travelers. With English as the primary language and easy travel and accommodation options, Scotland offers a seamless experience for solo travelers.
Scotland is a captivating blend of stunning scenery, turbulent history, and distinctive culture. From traditional music and delicious cuisine to breathtaking landscapes, the country is a treasure trove of unique experiences.
One of Scotland's highlights, especially in the Highlands, is hiking. There are numerous trails and walks available, and local tourist offices provide helpful guides. However, it's important to stay aware of the weather, as it can change rapidly. Some hikes are suitable for experienced walkers only, so preparation and research are key.
While in Scotland, make sure to sample the local cuisine. Traditional dishes like haggis may be an acquired taste, but indulging in deep-fried Mars bars is a delightfully random experience. Local farmers' markets and charming cafes abound, allowing you to indulge yourself while traveling.
Contributed by Kat from Wandering Bird
The Netherlands
For first-time solo female travelers, the Netherlands is a fascinating and safe country to visit. It offers a plethora of sights and attractions, making it an excellent choice for a solo trip. What sets it apart is its reputation as one of the safest countries in the world, coupled with the fact that almost everyone speaks English.
The Netherlands is home to many lovely cities, including Utrecht, Rotterdam, The Hague, Leiden, and Maastricht, each with its own unique charm, history, and exciting things to do. What makes exploring these cities even more convenient is the country's small size, allowing for easy travel between them. If you visit in April, be sure to witness the beautiful tulip fields in Lisse, a sight that shouldn't be missed if you have the opportunity.
Contributed by Dymphe from Dymabroad
France
France is a popular destination for solo female travelers, providing a fantastic solo travel experience despite not being an English-speaking country. As one of the most visited countries globally, France is easily navigable, with plenty of travel guides catering to solo female travelers. It is also considered safe, making it effortless to meet like-minded individuals during your journey. Furthermore, France offers a wealth of attractions and activities for visitors to enjoy.
While Paris is a must-visit city, it's highly recommended to venture beyond the capital and explore the beautiful towns and villages that seem straight out of fairytales. From Colmar with its colorful half-timbered houses to the medieval town of Carcassonne with its fortified walls and the enchanting village of Mont St. Michel, France is full of captivating destinations.
When exploring Paris, it's crucial to stay aware of your surroundings, particularly at metro stations, as pickpockets can be present. Additionally, given the city's popularity, expect large crowds. To save time, consider purchasing skip-the-line tickets whenever possible. If you're looking for affordable accommodation in Paris, Ibis Hotels offer great options.
Contributed by Christine Rogador from Journey To France
Belgium
Belgium serves as an excellent starting point for solo female travelers. As a small country, it offers a multitude of cities to explore, all conveniently connected by a well-established public transport network. Visiting Belgium allows you to experience a diverse mix of cultures without having to travel extensive distances. From Flanders in the north to Wallonia in the south, Belgian beer, fries, and waffles unite the country.
Top Tips for Solo Female Travel in Brussels:
- Watch out for pickpockets. Although Brussels is generally safe, pickpockets may operate in metro stations and busy areas. Stay vigilant and avoid putting valuables in your back pockets.
- Favor street food over restaurants. Brussels offers great street food specialties, such as carbonnade and moules frites. Locals often socialize in bars, enjoying a cornet of fries and a refreshing beer.
Contributed by Kirstie from Kirstie Will Travel
Iceland
Iceland is the perfect destination for a woman's first solo trip. With its stunning landscapes, hot springs, and thrilling adventure opportunities, Iceland offers a unique travel experience. Moreover, Iceland boasts an incredibly low crime rate and friendly English-speaking locals who are always willing to help. Safety is not a concern in this remarkable country, making it one of the best solo female travel destinations.
Upon arrival, indulge in a bath in the milky blue water of the Blue Lagoon, while taking note to use plenty of conditioner for your hair. Spend the evening exploring Reykjavik, Iceland's capital, known for its colorful houses, intriguing graffiti, vibrant nightlife, hipster shopping streets, and even the eccentric Phallological Museum.
Although the Northern Lights are not guaranteed, the best season to witness this natural phenomenon extends from September to March. Join dedicated tours to experience the lights outside the city, away from light pollution. As a solo traveler, renting a car can be costly.
Contributed by Raluca from TravelWithASpin
Sweden
Sweden is an ideal destination for first-time solo female travelers. The experience varies depending on the time of year, with long summer days perfect for outdoor dining at cafes and restaurants, while shorter winter days create a unique ambiance. Sweden offers a wide range of activities tailored to your interests.
Stockholm, the capital of Sweden, presents numerous museums, a charming old town, vibrant nightlife, and a plethora of restaurants. The Archipelago is home to quaint cottages, ideal for hiking, camping, and kayaking.
A visit to Abisko allows you to explore Abisko National Park, which serves as the starting point for the popular King's trail during the summer. In winter, Abisko offers breathtaking Northern Lights sightings, along with activities like skiing, dog sledding, and winter hiking.
Sweden provides an enriching solo travel experience due to its high English proficiency, low crime rate compared to the United States, and diverse range of activities.
Submitted by Andrea Cannon from BeaUTAHful World
Romania
Romania is a fantastic place for first-time solo female travelers. It offers a safe, friendly, fun, and affordable experience. English is widely spoken, making it easy to get around and interact with the locals, particularly the younger population.
While exploring Romania, it's recommended not to spend too much time in Bucharest, as there are more charming and scenic places to be discovered elsewhere. Indulge in delicious Romanian dishes like papanasi doughnuts with cream cheese and fruit jam. Just be cautious, as they are normally served in pairs!
Explored by Rose from Where Goes Rose?
North America's Best Solo Female Travel Destinations
Canada
Canada, the second-largest country in the world, offers a vast array of experiences for solo female travelers. From savoring fresh lobster dishes in Atlantic Canada to exploring the bustling cities of central Canada and embarking on mountain hikes in western Canada, there is an abundance of attractions to discover.
A tip for Canada: visit British Columbia (BC). This province stands out as it offers beaches, mountains, and forests all within close proximity, ensuring a diverse range of activities while prioritizing safety. Vancouver, BC, is home to picturesque beaches such as English Bay, Kitsilano Beach, and Jericho, providing breathtaking sunset views. Grouse Mountain, located in North Vancouver, offers a challenging hike or an easy gondola ride up the mountain, showcasing stunning city views and skiing opportunities in the winter.
Stanley Park, a vast urban park, attracts many cyclists, joggers, and walkers along the scenic seawall, offering views of the lighthouse, Lions Gate Bridge, and other iconic landmarks.
Venturing beyond Vancouver requires a car rental. Driving along the Sea to Sky Highway, considered one of the most beautiful highways globally, allows for hikes to Brandywine Falls or leisurely visits to Cheakamus Lake in Squamish.
Further north lies Whistler, the ski capital of BC. Pemberton, a beautiful rural city with towering mountains and Joffre Lakes Provincial Park, offers a long hike encompassing three glacier-fed lakes.
While exploring BC during the day is generally safe, it's advisable to exercise caution when exploring at night, sticking to well-lit areas. BC promises a whimsical experience for adventurous solo female travelers.
Recommended by Samah from God and Wanderlust
In a world where wanderlust knows no bounds, women are taking the lead in exploring new horizons and embracing the thrilling experience of solo travel. From the picturesque landscapes of Finland to the vibrant streets of Thailand, there is a multitude of captivating destinations awaiting the adventurous female explorer. Whether you're seeking the cultural wonders of Europe, the exotic allure of Asia, the natural beauty of Oceania, or the untamed landscapes of Africa, there is a perfect place out there just waiting for you. So pack your bags, arm yourself with our top tips, and embark on a journey of self-discovery and empowerment. The world is your oyster, and these destinations are the pearl. Happy travels, ladies!