Exploring the World Solo: Best Travel Destinations for Female Adventurers
2023-11-08 04:41:58 - Drany Macley
Drany Macley, the senior editor of Vytravels.com, brings extensive journalism background and over eight years of experience in travel writing and editing to the site, offering practical insights and first-hand knowledge through articles on innovative hotels, backed by a BA in Journalism from Ithaca College.
Ready to embark on a thrilling adventure? Discover the best travel destinations for solo female adventurers! From the enchanting landscapes of New Zealand to the vibrant streets of New York City, this article has got you covered. Whether you're seeking solace near your own backyard or exploring far-flung corners of the world, we've curated a list of the most captivating and empowering destinations for women traveling alone. So, gear up, reclaim your sense of wanderlust, and follow us on this incredible journey through some of the best places for solo female travel across continents.
The Best Destinations for Solo Female Travel
When deciding on a destination for a solo adventure, some places are inherently better for women travelers. Whether it's because they are safer or easier to navigate alone, these destinations are at the top of my list. I have personally visited each of these places alone, so I can provide firsthand recommendations for the best destinations for solo female travel. Trust me, all of them have been tried and tested!
Somewhere Near Your Home
Your first solo trip doesn't need to be a long and complicated adventure that requires flying. If you're new to solo travel or haven't traveled much before, I suggest starting small. Visit a destination within a few hours of your home and stay there for one or two nights. Keep it simple.
This is a great way to get accustomed to solo travel while still being in a familiar environment. You'll begin to understand what it's like to eat alone or adjust your schedule based on personal preferences. For example, you might realize that you only need 45 minutes at a museum instead of two hours.
As someone from the Boston area, I highly recommend visiting the Berkshires solo for a few days. If you're in the Chicago area, consider checking out Milwaukee. I was pleasantly surprised by how much I enjoyed the city. And if you're near South Jersey, Pennsylvania, or DC, I highly recommend exploring Maryland's Eastern Shore. It's a stunning place that I knew nothing about before visiting. Lastly, in New York, you can't go wrong with my little town of Hudson or a day trip to the North Fork of Long Island.
Honestly, starting with a big and complicated solo trip might discourage you from traveling again, especially given the current challenges of international travel. Instead, dip your toes into solo travel with a nearby trip.
Now that we've covered that, let's move on to the destinations!
Finland
Known as the land of the midnight sun and the Northern Lights, Finland is an ideal destination for nature lovers. It boasts Lemmenjoki National Park, the largest wooded reserve in Europe, and numerous other wild areas, including the region with the most lakes in Europe.
Safety is a top priority in Finland, and it is ranked number one in terms of safety by the World Economic Forum in their Travel and Tourism Competitiveness Report. It is one of the safest countries in Europe for solo female travelers.
If you're looking for accommodation, check out these incredible Worldpackers hosts in Finland.
Colorado
Colorado lives up to the hype. This state is filled with stunning Rocky Mountains and offers incredible opportunities for outdoor activities, including hiking in the summer and skiing in the winter.
It's a great place to try new outdoor activities such as whitewater rafting, mountain biking, or sandboarding. If you're hesitant about hiking alone, there are plenty of guided hikes and activities available, which also provide an opportunity to make new friends.
Colorado is home to vibrant cities like Denver and Vail, where you can explore museums, breweries, and enjoy stunning concerts at venues like Red Rocks Amphitheatre.
Don't miss signature experiences like hiking with llamas in Vail, visiting the Tajik teahouse in Boulder, or indulging in brunch at Snooze or desserts at D Bar. Just remember to be cautious about alcohol consumption due to the high altitude.
Read More: Vail, Colorado, Might Be Better in the Summer!
Enjoying the view at Gulfoss in Iceland
Berkeley, California
Let's take a moment to discuss some smaller cities.
For solo travelers who are already planning to visit San Francisco and want to extend their stay, I recommend spending a couple of days exploring Berkeley. You're probably familiar with UC Berkeley, but the city itself has even more activities for solo travelers to enjoy.
As a solo traveler in Berkeley, I suggest trying out local restaurants, exploring unique shops like Moe's Books, visiting botanical gardens, and spending time at the marina. You'll feel right at home! The locals are friendly and interesting, so don't hesitate to strike up conversations with gallery owners or bartenders.
Where to Stay in Berkeley
Austin, TX should be on your list of first-time solo female travel destinations in the USA.
New York City, New York
Of course, we can't overlook New York City!
New York City is one of my favorite cities in the world, and solo female travel there will make you feel like you can conquer anything. The city has an empowering "can do!" atmosphere that permeates your soul.
For a city of its size, New York City is relatively safe, especially in areas near major tourist attractions like Manhattan. I have always felt comfortable exploring Central Park and walking across the Brooklyn Bridge alone.
As a solo traveler in New York, the possibilities are endless. You can shop until you drop on Fifth Avenue, indulge in neighborhood-specific food tours, watch a Broadway play, explore art museums to your heart's content, and so much more.
Where to Stay in New York
Got 7 Days in Northern California? Snap Some Selfies at the Golden Gate Bridge!
Best Destinations for Solo Female Travel in Oceania
This category includes Australia, New Zealand, and the South Pacific islands, and while there may not be many budget-friendly options, there are still great destinations for solo female travelers.
West Coast, Australia
Solo travel rating: easy
Australia is a suitable destination for all types of travel, from backpacking to luxury. The weather is fantastic, and there are plenty of hostels and excursions available to meet other travelers, such as island hopping. Many nationalities qualify for working holiday visas, making it a great place to temporarily live and travel. Some of the best solo trips for women in Australia include Fraser Island, the Gold Coast, the Whitsundays, Magnetic Island, and Cairns.
In terms of the big cities, Sydney is glamorous with fantastic hiking opportunities, while Melbourne offers a cool and quirky atmosphere with delicious brunch options.
Safety in Australia is rated at 10/10, and meeting other people is super easy, especially in hostels. However, it can be quite expensive, with hostel prices starting at AUD$40 and dining out being costly. Fortunately, many hostels have kitchens where you can save money by cooking.
New Zealand
Solo travel rating: easy
Cycling between wineries near Queenstown
New Zealand is renowned for its stunning landscapes and attracts a large number of travelers. It has a very low crime rate and is considered a safe country. Highlights of solo travel in New Zealand include exploring the cool city of Wellington, engaging in adrenaline-inducing adventures in Queenstown, hiking in Abel Tasman National Park, witnessing the glowworms in Waitomo caves, enjoying bubbling mud spas in Rotorua, trekking the Tongariro Alpine Crossing from Taupo, and experiencing a helicopter landing on Fox Glacier. The possibilities for bucket list experiences are endless!
Like Australia and Canada, New Zealand offers working holiday visas for many nationalities. However, it can be an expensive destination. Traveling in pairs or staying in hostels can help reduce costs.
Safety is rated at 10/10, and meeting other people is best done in bigger towns and cities with hostels. While prices can be high, you do get good value for your money. Affordable options, especially for food, can be found in local restaurants and night markets.
Best Destinations for Solo Female Travel in Africa
Africa doesn't always have the best reputation for travel safety, but I can assure you that it is a solo travel myth that Africa is off-limits to solo women. Having spent months traveling solo there, I know that it is possible to have a safe and enjoyable experience. Here are my top picks:
Cape Town, South Africa (and the Garden Route)
Solo travel rating: advanced
Paragliding in Cape Town
Cape Town is one of my favorite cities in the world. It offers fantastic food, coffee, beaches, hikes, sunsets, wine tasting, and so much more. Just like any other city, it's important to follow safety guidelines, such as not walking alone at night and being cautious with valuables.
Another safe place for solo female travel in South Africa is the Garden Route, a coastal stretch from Cape Town. Must-visit stops along this route include Mossel Bay, Knysna, Plettenberg Bay, and Coffee Bay. You can enjoy hiking, beautiful beaches, and even snorkeling with seals.
Safety in Cape Town and the Garden Route is rated 6/10. By taking precautions like using taxis at night, researching unfamiliar areas before visiting, and keeping your belongings secure, you can have a trouble-free trip.
Meeting other people is made easy by staying in hostels and utilizing services like the Baz Bus, which connects destinations along the Garden Route. While prices can vary, South Africa is generally more affordable compared to Western countries.
Zanzibar Island, Tanzania
Solo travel rating: medium
Enjoying Zanzibar's white sand beaches
Zanzibar Island is one of the safest places in Tanzania, which is itself considered one of the safest countries in Africa. It offers idyllic white sand beaches and various activities such as boat trips, snorkeling, and diving. The capital city, Stone Town, is gorgeous and filled with charming alleys, local crafts, and delicious food.
While Zanzibar has a reputation for luxury travel, there are still hostels available if you prefer to meet other travelers and keep costs down during your solo trip.
Safety in Zanzibar is rated 8/10. It's advisable not to walk alone at night, except for short distances in the tourist center of Stone Town. Meeting other people is quite possible, especially in hostels and during excursions.
While Zanzibar can be slightly expensive due to its popularity with tourists, you can still get good value for your money. There are plenty of affordable local restaurants in Stone Town, as well as a night market with street food.
Top Destinations for Solo Female Travel in the Americas
The Americas may have varying safety reputations for travel, but like any continent, there are both good and bad places to visit. Today, I want to highlight some of the best destinations for solo female travelers.
Oaxaca, Mexico 
Solo travel rating: Medium
The Enchanting Oaxaca
Mexico is a diverse destination that is often misrepresented by Western media as either dangerous or basic (think Cancun resorts and Tulum Insta-cafes). However, as a resident of Mexico, I can confidently say that it offers so much more. With its varied climates and subcultures, Mexico is an incredibly exciting and rewarding place to explore.
For solo travel in Mexico, I do not recommend Cancun due to its high expenses and focus on resort tourism that may not cater well to solo travelers. Additionally, there are some unsafe areas in Mexico that should be avoided. However, I would love to introduce you to one of my favorite places that strikes a perfect balance: Oaxaca!
Oaxaca, both a city and a state, is an absolute gem. It is incredibly charming and stunning, with numerous delightful cafes, restaurants, and street food vendors. It is also known for its vibrant arts scene, featuring craft markets and art studios where you can indulge in some shopping.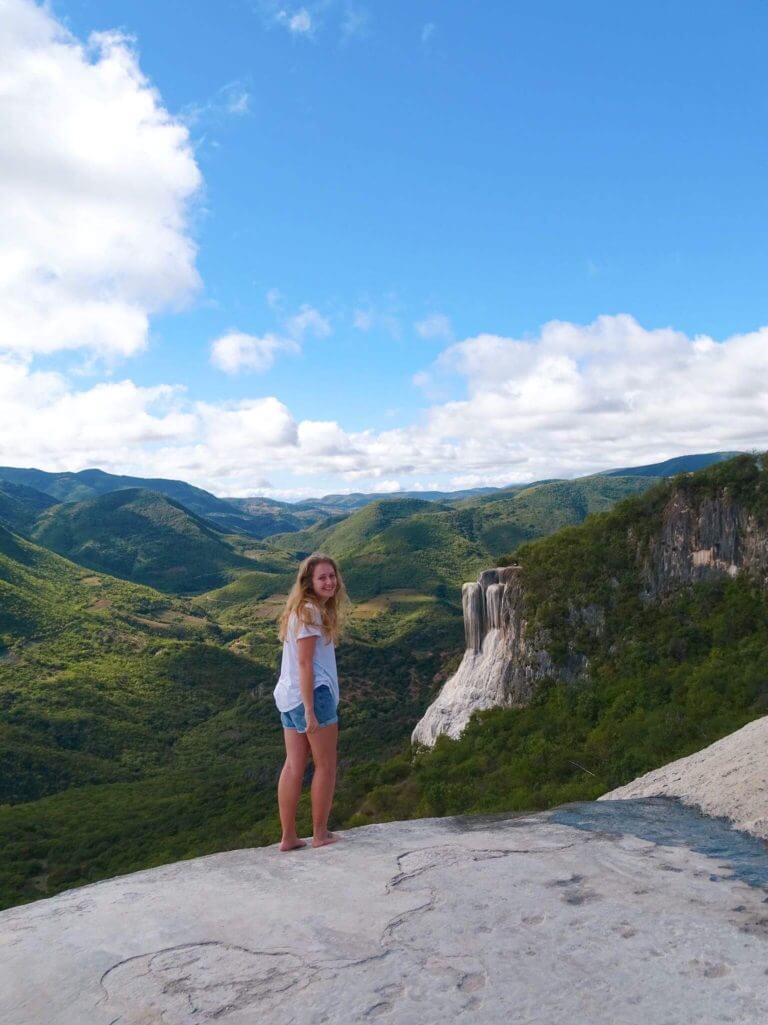 A Must-Visit: Hierve el Agua
Indulge in the Oaxaca Chocolate Festival
While in Oaxaca City, take some day trips. Visit Hierve el Agua via a day tour or local bus & colectivo (although this can be an adventure), explore the Monte Alban ruins on a day trip, and discover the world's largest tree and learn about handicrafts in Teotitlan del Valle.
If you happen to visit at the end of October, make sure to experience the Day of the Dead celebrations in Oaxaca, which are among the best in Mexico.
Another fantastic destination for solo female travelers in Oaxaca is the beach town of Puerto Escondido. It's a blissful experience!
Safety: 8/10. 
Meeting other travelers: Very easy; there's always plenty going on.
Cost: Super affordable if you opt for street food, but expect Western prices at upmarket restaurants.
Havana, Cuba
Solo travel rating: Advanced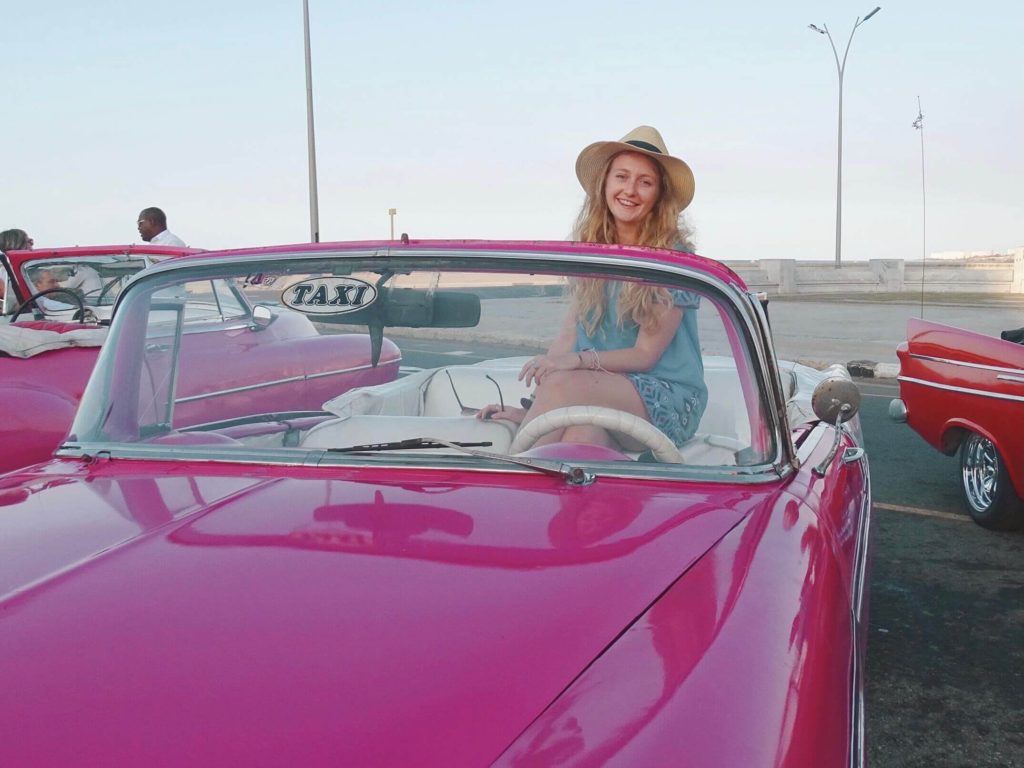 Debating Including Havana
I debated whether to include Havana on this list because it may not be the best destination for first-time solo travelers. However, I had such enriching experiences during my solo travels in Cuba that I decided to include it with a word of caution. Havana may not be the most sociable place to travel, and the lack of reliable internet access can make it isolating and challenging to conduct research. Make sure to do your Googling in advance!
Ultimately, it's up to you to decide if you're ready for this kind of experience on your solo travel journey.
But why should you visit Havana despite these challenges? From its magnificent old buildings to the classic cars, rooftop bars, and stunning beaches, Cuba is truly captivating. Hearing about the unique and intriguing aspects of this country from the locals themselves was a memorable learning experience.
Safety: 7/10. There is minimal crime in Cuba, so you'll generally be safe. However, it's important to note that catcalling and staring from men are common occurrences, although they won't harm you, they can be unpleasant.
Meeting other travelers: It can be challenging due to limited hostel options, but I recommend joining Airbnb experience bar crawls for a great time!
Cost: While Cuba is fairly affordable, staying at local homes called "casa particulars" is the way to go. Street food is cheap, but tourist-oriented restaurants can be costly.
Antigua, Guatemala
Solo travel rating: Medium
Discover the Beauty of Lake Atitlán
Guatemala is one of the safest countries in Central America, known for its striking volcanic landscapes and rich Mayan culture. The most popular city for travelers to visit is Antigua, a UNESCO Heritage Site. This charming colonial city is home to lovely cafes and numerous Spanish schools for those interested in learning the local language. This is particularly beneficial as traveling in Central America can be challenging without basic Spanish skills. Surrounded by lakes and volcanoes, Antigua offers plenty of wonderful excursions.
Safety: 8/10.
Meeting others: You'll encounter plenty of tourists in Antigua, including other solo women travelers.
Cost: It is an affordable destination. The main expenses will be associated with touristy activities in Antigua.
New York
An Iconic City with Endless Possibilities
New York is a must-visit city, renowned for its museums, art galleries, food scene, shopping, and vast green spaces. Whatever you desire, New York has it! When you travel alone to New York, you have the freedom to explore without having to consider anyone else's preferences. You're in control of your own itinerary and can do, see, and eat whatever you want, whenever and wherever you want. With so much to offer, you'll never run out of things to do, and New Yorkers are generally too busy to pay much attention to the fact that you're alone!
Some great activities to do alone in New York include visiting the Top of the Rock for panoramic views, exploring the modern art at MOMA, strolling along the High Line, and catching a Broadway show. In the theater, you won't have anyone to talk to anyway!
Don't Forget to Explore the High Line!Safety: 8/10. Big cities are never the safest, but there's no reason to avoid solo travel to New York.
Meeting others: Americans are generally friendly, although everyone in New York is usually in a hurry. While hostels may not be as prevalent as in Europe or Asia, The Local NY is a great option with a cafe/bar and nightly entertainment. It's located in Queens, just a 15-minute subway ride to Times Square and Broadway.
Cost: New York is one of the world's most expensive cities. I paid $100 per night, after taxes, to stay in a 4-bed female dorm at The Local NY, which is one of the more affordable accommodations in the city. To keep costs down, use the subway for $2.75 per journey and indulge in casual takeout food such as bagels and pizza slices (Joe's and Bleecker Street in Greenwich offer $4 slices!).
Canada
Solo travel rating: Easy
A Year-Round Destination
Canada offers something for every season, from skiing in winter to hiking in summer (depending on how you handle the cold). Exploring the great outdoors while traveling solo provides the ultimate "me-time," while cities like Toronto and Vancouver offer a vibrant urban experience. Canada also provides working holiday visas for many nationalities aged 18-30, presenting a great opportunity for work and travel.
Safety: 10/10. Canada is safe for solo travelers, and the locals are friendly and welcoming.
Meeting others: Easy enough in hostels.
Cost: Canada is not a budget-friendly destination, but staying in hostels with kitchens can help keep costs down.
Austin, Texas
Texas is one of the largest states in the US, and while Austin may not represent all of Texas, it is still a fantastic and vibrant city for solo travelers to explore. Despite not being the most "authentic" Texan city due to the high number of transplants, Austin offers a wonderful and funky atmosphere where you can easily make new friends at social hostels.
Austin is packed with activities perfect for solo travelers. You can go shopping in the South Congress district without feeling judged, enjoy hopping between food trucks without having to share your meal, relax on the University of Texas campus and relive your college days, or immerse yourself in the city's many museums. The options are endless!
Enjoy the Downtown Skyline of Austin
Where To Stay In Austin
Take a Tour to Mount Rainier National Park during Your Solo Trip to Seattle.
San Francisco, California 
San Francisco, another iconic American city, is a wonderful option for solo travel, particularly for new travelers, thanks to its excellent tourism infrastructure.
For example, San Francisco offers numerous local tour companies that provide guided walking tours in different neighborhoods or day trips to nearby destinations like Muir Woods or the wine counties. With these tours, you don't have to worry about planning; the guides take care of all the details!
Like New York, getting around San Francisco without a rental car is a breeze. Rideshares are widely available, and you can also experience the famous cable cars that traverse the city's picturesque hills. What's not to love?
Explore San Francisco's Hills on FootMeeting others: Easy enough in hostels.
Cost: San Francisco can be quite expensive, but with careful planning, you can keep costs under control. Utilize rideshares or public transportation, such as cable cars, to save money on transportation expenses.
Seattle, Washington
Another city that perfectly combines nature and urban life is Seattle in Washington State. Solo travel in Seattle offers unique experiences, such as visiting the Museum of Pop, which is one of my personal favorites, or taking day trips to scenic national parks like Mount Rainier.
Joining organized day trips to Mount Rainier is especially beneficial since there isn't always reliable cell service in the area, and having a knowledgeable guide ensures a safe and enjoyable experience. 
As a solo traveler, I appreciated Seattle's moderate weather, as it allowed me to explore the city without breaking a sweat. Seattle also boasts several friendly and fun hostels, making it easy to meet fellow travelers.
Don't Miss Out on Exploring Pike Place Market in Seattle!
Where To Stay in Seattle
Madison, Wisconsin 
Madison, Wisconsin, is home to the state's stunning Capitol building and largest university. This city surprised and delighted me with its friendly and welcoming locals. I had many heartwarming conversations during my time here.
Moreover, Madison offers a wide range of activities centered around its beautiful lakes. Whether it's watching the sunset from the shoreline, going on a lake cruise, or kayaking, there are plenty of opportunities to enjoy the outdoors. Madison is also a thriving cultural hub, boasting numerous museums where you can spend hours learning about the city.
For first-time solo travelers, Madison is simply perfect.
Enjoy a Day Trip to Nearby Philadelphia During Your Stay!
Where To Stay in Madison
Portland, Maine
Another hidden gem of a small city with a flourishing food scene is Portland, Maine. Solo travel in Portland, Maine will satisfy your taste buds, especially if you love fresh seafood from the North Atlantic Ocean. With plenty of food truck and bar options, you won't feel awkward asking for a "table for one."
Moreover, Portland's iconic lighthouses are just a short Uber ride away from downtown. As a solo traveler, you can easily escape to the spectacular coastline of Maine without much planning involved.
Lastly, I found Portland to be a very safe city for solo exploration. Feeling at ease is crucial for any first-time solo traveler, and you can rest assured that crime is not a major concern here, as long as you employ common sense street smarts.
Go Shopping in Portland, Maine!
Where To Stay in Portland
Philadelphia, Pennsylvania
Let's shift our focus back to larger cities. Any history enthusiast embarking on their first solo trip to the US should consider Philadelphia.
Philadelphia is widely regarded as one of the birthplaces of our nation. Explore Independence Hall and the Constitution Center to learn all about the founding of the United States. You can even take a convenient day trip to Valley Forge.
Even if history isn't your main interest, Philadelphia offers a range of fascinating neighborhoods to explore, countless local food options (don't miss out on Reading Terminal Market), and year-round sporting events. Highly recommended!
Take a Day Trip to Philadelphia from a Nearby City!
Where To Stay in Philadelphia
Best Destinations for Solo Female Travel in Europe
Having traveled extensively in Western Europe, I personally find it more enjoyable to explore Central and Eastern European countries like the Balkans, as they offer a more affordable experience.
Eastern Europe often carries a negative reputation in terms of safety, but I believe this is largely due to political biases and outdated information. In reality, I have had fantastic and rewarding experiences traveling in this region, meeting incredible people, and indulging in delicious food and drink without breaking the bank.
If you're looking for the best places to travel alone in Europe, both in the West and the East, here are my top recommendations:
Portugal
Solo travel rating: easy.
Lisbon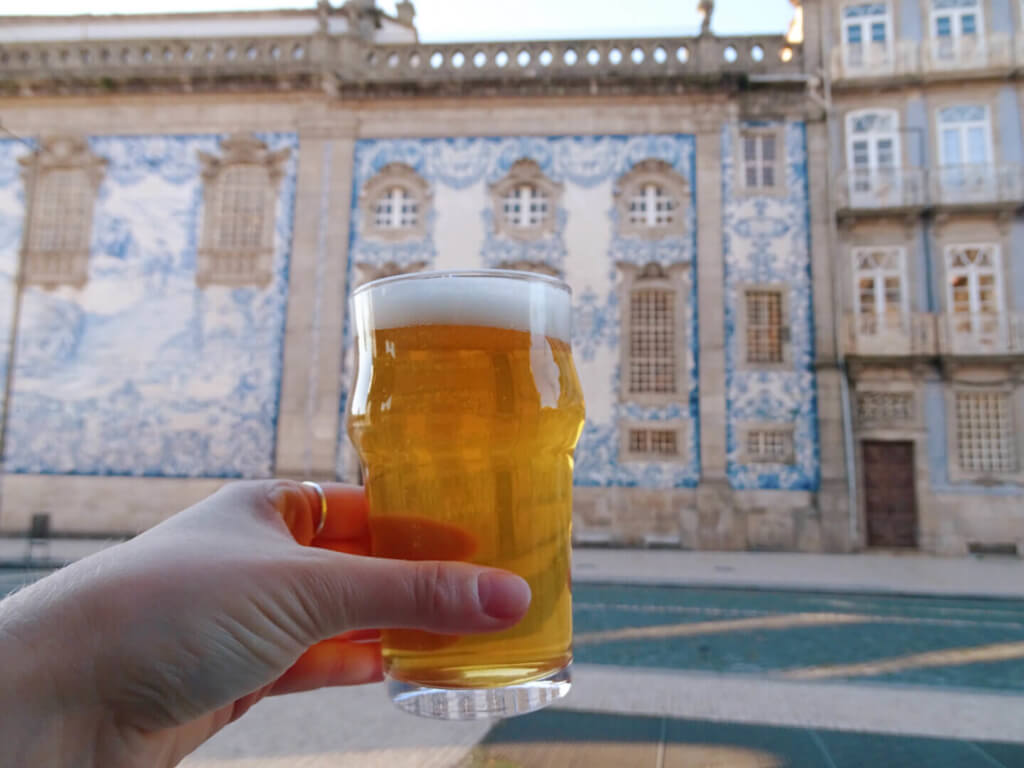 Porto
Portugal is a remarkable country with a multitude of attractions, including its weather, beaches, cities, and mouthwatering pastel de natas. When it comes to the best destinations for solo female travelers, Portugal is a perfect choice, scoring a solid 10/10 in all aspects.
Best places to travel solo in Portugal:
Lisbon – the capital is cosmopolitan and vibrant, offering stunning architecture, diverse neighborhoods, and a wealth of activities, including hidden gems. Check out my dedicated guide to solo travel in Lisbon for more information.
Porto – I lived here for 3 months and didn't want to leave. This beautiful city has a more traditional charm compared to Lisbon, with its stunning architecture. For more details, be sure to read all my Porto blogs.
The Algarve – While I was initially concerned that this region might be expensive and family-oriented, I discovered that it can also be a fantastic destination for backpackers. It boasts stunning beaches, hiking opportunities, and charming small towns. I particularly enjoyed Faro and Lagos. However, I strongly advise against visiting Albufeira, as it tends to be overwhelmed by rowdy British tourists (and I say this as a Brit myself!).
Safety: 10/10
. The locals are friendly, and the attitude towards women, LGBT travelers, and people of color is progressive.
It's super easy! Especially in Lisbon, Porto, and the Algarve, you'll find numerous hostels and activities to join through Viator and GetYourGuide.Cost: While not as cheap as certain destinations in Asia or Eastern Europe, Portugal is considerably more affordable than France, Germany, or the UK. Just be sure to avoid tourist traps in Lisbon and the Algarve. In Porto, you can enjoy 3-course meals for under €10 and glasses of wine for €2! Bus and train travel between cities can cost as little as €3.
Ireland
Solo travel rating: easy
Ireland is a fantastic destination for solo travel thanks to its safety, friendly locals, stunning natural beauty, and lack of language barrier for English speakers. It offers a wonderful blend of outdoor adventures and urban explorations, with Dublin being one of Europe's most popular cities to visit. Don't miss the iconic Temple Bar area!
I personally took a memorable trip to Ireland between Christmas and New Year's, which turned out to be quite the adventure. While I can't exactly recommend going during that specific time (glitter-covered and hungover on New Year's Day is not ideal!), I do suggest considering a winter trip. Despite potentially unfavorable weather conditions, it's the perfect opportunity to cozy up in traditional pubs with a pint of Guinness and enjoy live Irish music.
Safety: 10/10
Meeting other travelers: easy peasy. I had a great experience at City Hostel in Galway. In Dublin, I recommend opting for a smaller hostel, as the larger ones can feel more impersonal and make it harder to meet fellow travelers.
Cost: Ireland can be quite expensive, especially after the inflation in 2022. Dublin prices are said to be on par with Nordic countries. When it comes to the pros and cons of solo travel, expenses are more noticeable in pricier destinations where you can't split costs with others. In such cases, supermarket dinners and packed lunches can be lifesavers!
Barcelona
Solo travel rating: easy
Could Barcelona possibly have it all? With its incredible food, iconic architecture, vibrant nightlife, city beaches, and easy access to hiking, it certainly seems that way!
You could easily keep yourself entertained for days, or you could slow down, soak up the sunshine, and enjoy tapas in the charming backstreets. I highly recommend following a 3-day Barcelona itinerary. Another option is to stay in one of the many hostels and meet fellow travelers to explore the city's nightlife with.
The only downside to Barcelona is its high popularity, especially in July and August. It's best to visit during other times of the year and avoid tourist traps like Las Ramblas. By following these tips, you're sure to have an amazing solo trip. Safety: 7/10. While violent crime is rare, pickpocketing can be a nuisance. Almost everyone I know, including myself, has a story about a stolen phone or wallet. Make sure to use a secure bag and remain vigilant in crowded spaces, including public transport.
Meeting people: easy – check out some of the highly-rated hostels.
Cost: Hostels start from €18, and you can find affordable tapas options a bit further from the city center. I recommend exploring the famous La Boqueria market but seeking out cheaper food options elsewhere, as dining in popular areas can be expensive.
Read next: how to take photos of yourself while traveling solo
Croatia
Solo travel rating: easy
Enjoying a solo exploration of Dubrovnik in March!
Croatia is another country where I've had the opportunity to live, not just visit as a tourist. And I can confidently say that it's a fantastic destination for solo female travelers. If you love beaches and island hopping, you'll be in heaven here.
Read next: a complete guide to solo travel in Croatia
Best places to travel solo in Croatia:
Dubrovnik – Croatia's most famous city, largely thanks to Game of Thrones filming. With its well-preserved Old Town and city walls, Dubrovnik is a treasure trove of architecture and culture, while also offering great nightlife.
Split – Equally stunning, this coastal city is centered around the historic Diocletian's Palace and provides numerous opportunities for day trips to places like Krka Waterfalls and islands like Hvar and Korcula.
Zadar – This city by the sea is highly underrated. You can watch breathtaking sunsets next to the Sea Organ, a modern art installation that uses the power of waves to create beautiful music.
Zagreb – While it might not be the most exciting European capital, Zagreb is pleasant and affordable. Check out my guides on the best cafes, street art, and how to take a day trip to Plitvice National Park.
Not solo for long!
Enjoying a meal alone and loving it!
Safety: 10/10.
Meeting other travelers: easy, thanks to the abundance of hostels and organized activities. If you ever get tired of traveling solo, consider joining a group tour for a day. Additionally, Croatia has a thriving digital nomad scene and various expat and Facebook groups that offer opportunities to connect with like-minded individuals if you're planning a longer stay.
Cost: Not as cheap as I initially expected. Restaurants in Split and central areas of Dubrovnik can rival the prices of major cities like London. Do your research and explore side streets for more affordable dining options. I found Zagreb to be very budget-friendly.
Berlin, Germany
Solo travel rating: easy
Berlin Wall street art
Known for its unparalleled coolness, Berlin, the capital of Germany, is truly like no other city. It blends a fascinating history with a vibrant contemporary scene. While it's known for being quirky and alternative nowadays, it's important to recognize the weight of its complex past, which can still be seen in remnants like the street art-covered remains of the Berlin Wall.
Learning about Berlin's history is a must, but don't forget to explore its modern and unconventional side as well. You'll find everything from street art and clubs hidden in phone booths to repurposed Cold War bunkers and spy stations.
Vegans will be delighted to know that Berlin is one of the most vegan-friendly cities in the world!
Safety: 8/10. Like any large city, Berlin has its share of crime, such as pickpocketing. However, you're only a target if you stand out as a tourist. Berlin has a progressive attitude, a thriving LGBT scene, and a diverse international community.
Meeting other travelers: easy. With numerous hostels and organized activities, meeting fellow travelers won't be a problem. Just join a bar crawl or a free walking tour.
Cost: fairly expensive.
Enjoying a rooftop bar in Berlin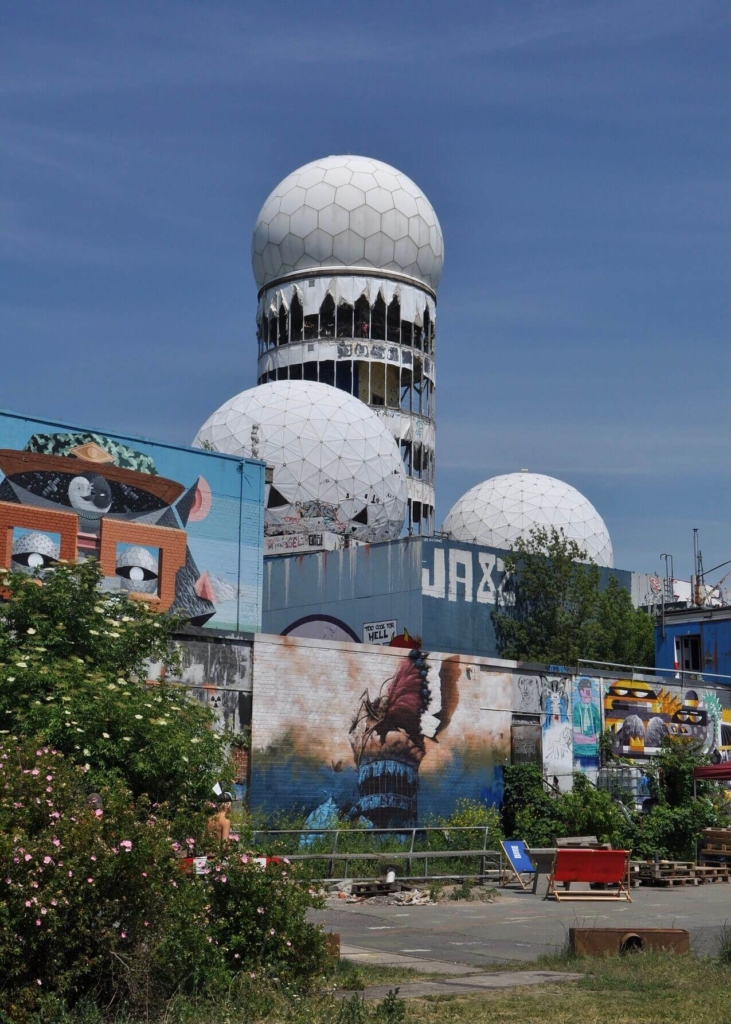 Teufelsberg (old military base)
While I've specifically mentioned Berlin here, I want to emphasize that the entire Germany is safe and offers rewarding experiences for solo female travelers. In particular, I adore the fairytale-like cities in Bavaria, such as Nuremberg (although keep in mind that it's not as popular among backpackers).
Budapest, Hungary
Solo travel rating: easy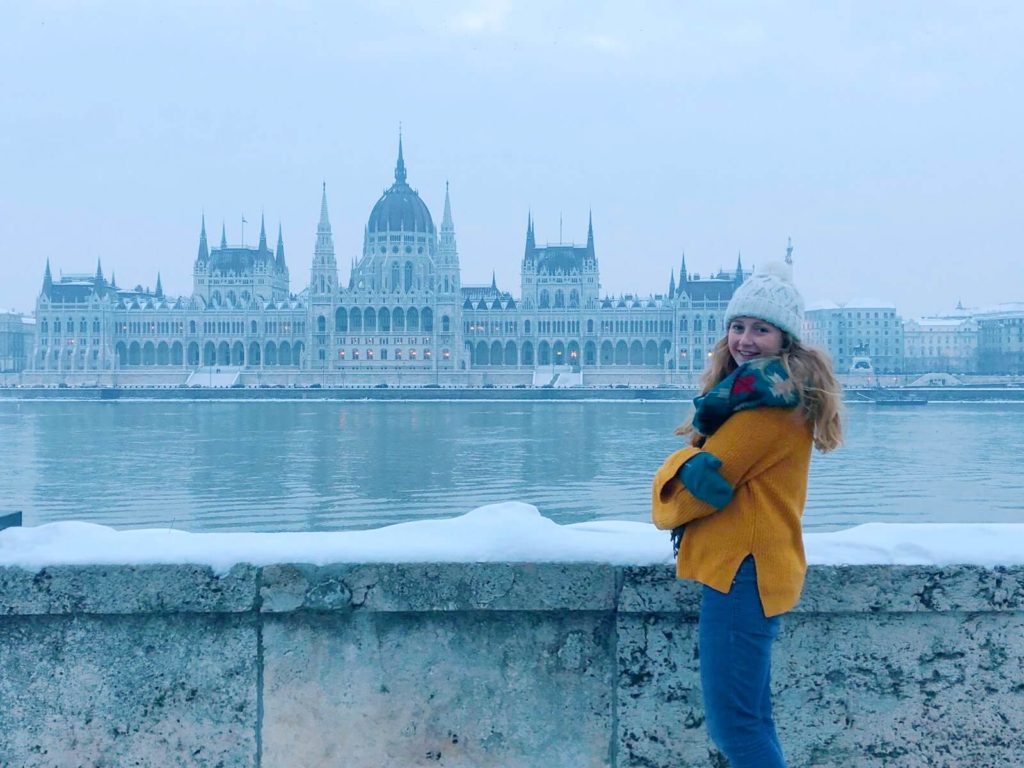 Affordable, fun, beautiful, lively nightlife, and hearty food—Budapest in Hungary is a dream destination for solo travelers. After several visits, it has firmly secured a place among my favorite European cities.
There's so much to do in Budapest, from indulging in hot spas and cruising along the Danube to exploring Fisherman's Bastion by climbing or riding the funicular. During summer, the city's parks and Margaret Island offer delightful escapes. Don't forget to explore Budapest's Jewish Quarter and savor the heartwarming local cuisine.
If you're interested in experiencing the city's renowned ruin bars and clubs, staying in a hostel is the way to go. Safety: 8/10. While pickpocketing can occur, it's more likely to happen to tourists. Budapest is generally safe, and its LGBT scene is quite welcoming. Travelers of color may not find a lot of diversity among the locals, but they won't feel out of place either.
Meeting other travelers: easy. Two highly recommended options are The Loft and Carpe Noctem.
Cost: relatively affordable, especially when compared to Western European capital cities.
If you have time, consider taking a train to...
Prague
Solo travel rating: easy
John Lennon Wall in Prague
Prague is another city I have visited multiple times and can highly recommend for solo travel. It's beautiful, fun, and offers a wealth of cafes, nightlife, and attractions.
While Prague's food may not make it onto lists of the world's best cuisine, I personally enjoyed the rich and hearty meals. Even if some dishes resemble something Rachel from Friends might accidentally make, they still taste great!
Safety: 8/10. Be cautious of your belongings, especially in tourist areas during peak periods. Overall, the Czech Republic is a very safe country.
Meeting other travelers: easy. Simply join a bar crawl or a free walking tour to connect with fellow travelers.
Cost: Prague falls between Western European capital cities and super cheap destinations like Albania in terms of prices. Expect to pay around €6-12 for main courses in restaurants and €2-3 for a pint.
Slovenia
Solo travel rating: easy
As one of the safest countries in the world, Slovenia is an ideal destination for first-time solo female travelers. It's not overly expensive, and it offers a thriving backpacker scene. Plus, Slovenia's stunning natural landscapes make it a dream destination for hiking and nature enthusiasts.
The capital, Ljubljana, is a pleasant city, especially when the weather is good. You can enjoy countless cafes and restaurants alongside the river. Don't miss the stunning Lake Bled either.
I also recommend adding Lake Bohinj and Piran on the Istrian peninsula to your Slovenia itinerary. Both places are breathtaking, even though they may not have as vibrant of a backpacker scene.
Safety: 10/10.
Remember, these are just a few of the incredible solo travel destinations that Europe has to offer. Exploring these countries, whether in the West or the East, will undoubtedly provide you with unforgettable experiences and a chance to meet fascinating people along the way.
Switzerland
Situated in the heart of Europe, Switzerland offers more than just renowned watchmakers. It is a country rich in cultural diversity, boasting a wide range of stunning attractions and landscapes that seamlessly transition from cosmopolitan to natural, leaving a lasting impression.
Safety: Switzerland, ranked seventh on the Global Peace Index (GPI), is one of the safest countries in the world, particularly for women. It is considered one of the most secure places in Europe for solo female travelers.
Where to stay: Stay with a Worldpackers host, of course! Take a look at all the Worldpackers hosts in Switzerland.
Belgium
Belgium is rightly renowned as a must-visit destination in Europe. This gem of a country boasts numerous historic sites, excellent infrastructure, and a wide array of tourist attractions. In Brussels, immerse yourself in the charming streets and marvel at the medieval architecture, while the picturesque landscape of Bruges offers a setting reminiscent of a captivating romantic film.
Safety: Belgium secures the tenth spot on the International Women's Travel Center's list of the best countries for solo female travelers. The popularity of study abroad programs in Belgium makes it an ideal destination for young girls traveling alone, providing opportunities to connect with fellow travelers of similar age.
Where to stay: Trade a little work for a chance to stay at a 5-star hostel for free with Worldpackers hosts in Belgium.
Best Destinations for Solo Female Travel in Asia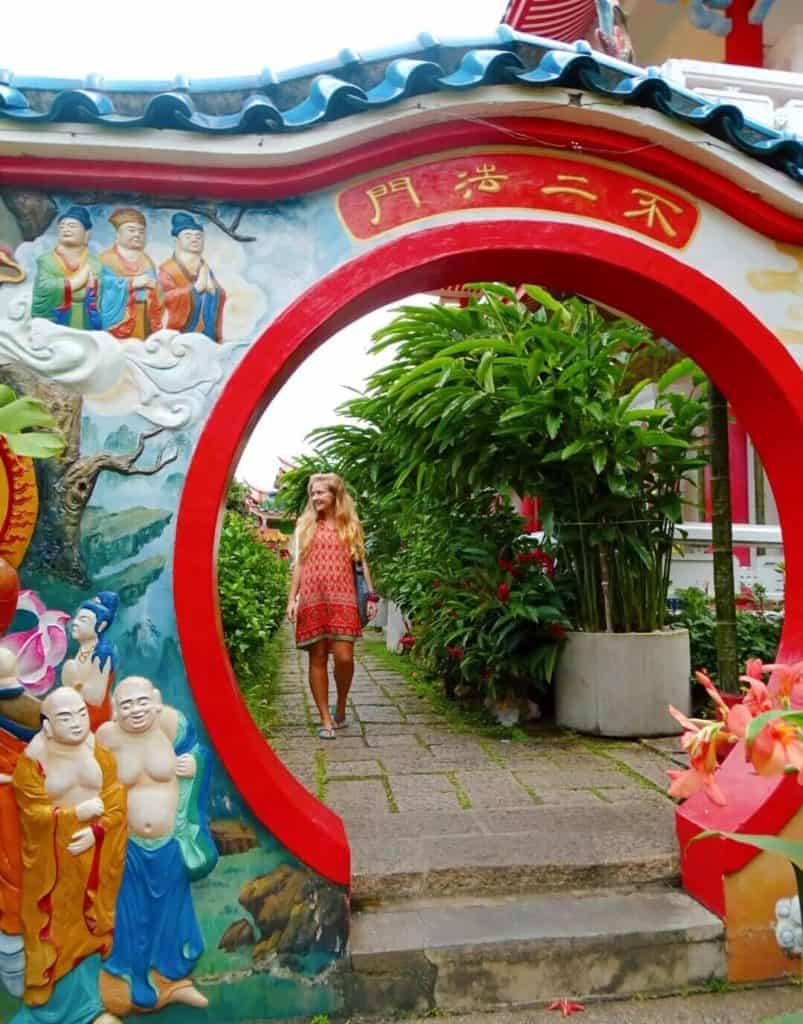 Kek Lok Si Temple, Malaysia
Elephant Cave, Ubud, Bali
Ah, my first love of travel! My first experiences of different cultures unlike my own took place in Asia, as did my first experiences of being independent and self-sufficient as a solo traveler.
When I talk about Asia in relation to first-time solo travel destinations, I mainly mean Southeast Asia. Around here, there's a clear backpacker route so it couldn't be easier to make friends on a similar journey to you.
Read next: the best places for solo travel in Asia
Thailand
Solo travel rating: easy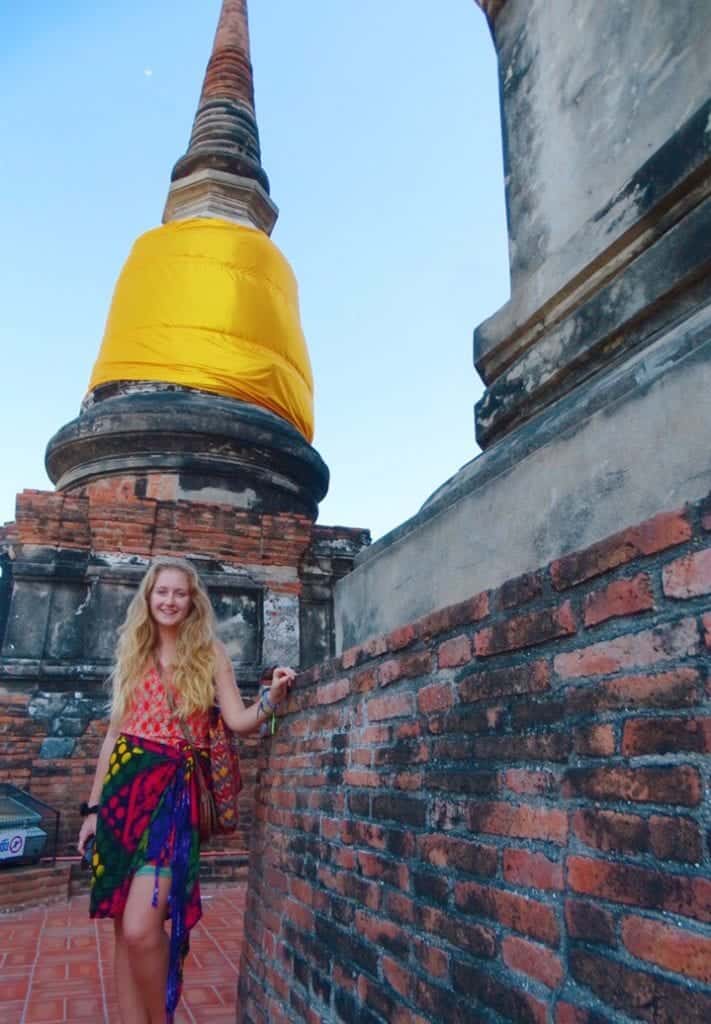 Palaces and temples galore!
Not to be dramatic but Thailand is probably the best place in the world AND it's safe, friendly, and affordable. For a fantastic solo female travel destination, it's a winner especially if you're keen to meet other travelers and enjoy the nightlife.
Best destinations for solo travel in Thailand:
Chiang Mai – this charming city is one of my favorites in Asia. There's a ridiculously high number of temples within the Old City Walls, and even more coffee shops and street food markets. Stay in a hostel to meet travelers to explore Northern Thailand with. Riding a motorbike to Pai in the mountains should be on your Asia bucket list!
Bangkok – now here's a city people don't give enough time! It's most famous for tacky Khao San Road but there's so much more for example world-class art galleries, peaceful riverside walks, incredible temples, world-class gastronomy and third-wave coffee shops
The islands – there are countless islands depending what you're into. Learn to dive on Koh Tao, party under the full moon on Koh Phangan, relax on luxurious Koh Samui, enjoy the hippie vibe of Koh Lanta or get off-grid on Koh Mak or the Koh Yao islands.
Safety: 9/10. There's not much crime in Thailand. It's also an LGBT-friendly destination.
Meeting other travelers: probably the easiest place in the world!
Cost: very affordable. You can eat street food for a dollar and stay in world-class hostels from !
Malaysia
Solo travel rating: easy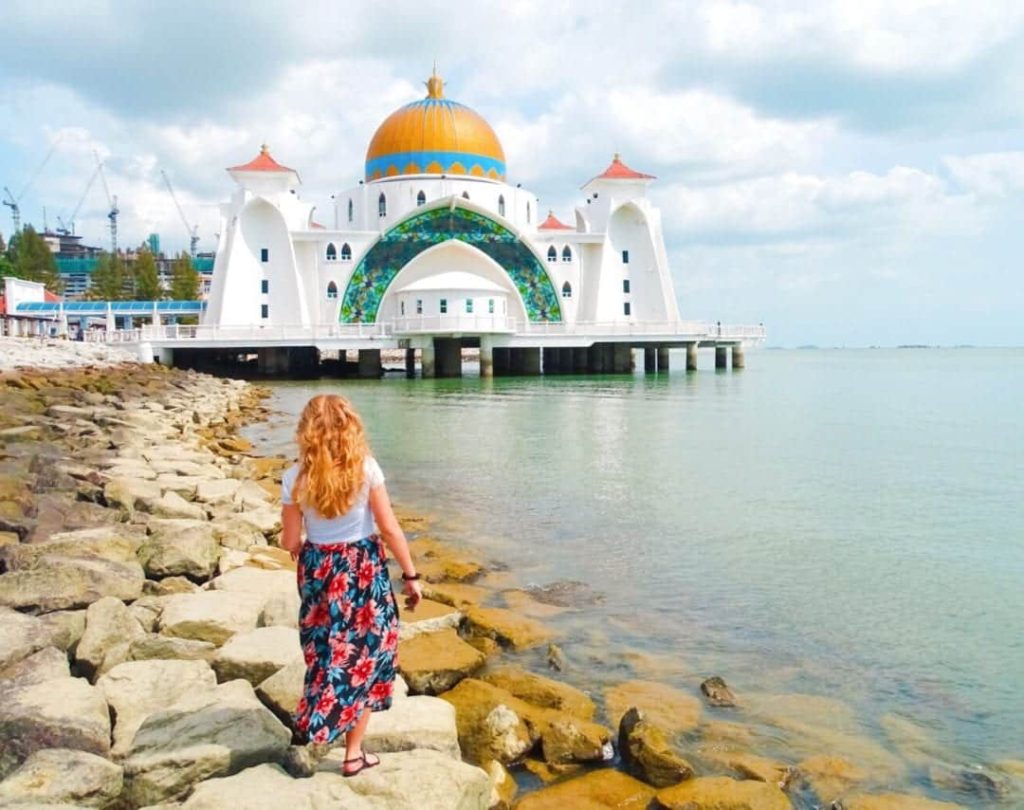 Culturally diverse Malaysia
Malaysia is another place I've traveled solo and had a FANTASTIC time. Malaysia is a country with a rich, colorful culture, friendly people, and amazing diversity. You could bask on a beach, trek in the rainforest, and shop in a global megacity within the same 2-week Malaysia itinerary!
Malaysia feels slightly more Western and a bit less chaotic than Thailand so it's a good place for first-time solo travelers. I love the glitzy capital but two days in Kuala Lumpur is probably enough. My favorite place is Penang Island with its amazing street art, street food, and cool cafes.
As far as charming small cities go, I love Melaka and Ipoh. Langkawi is your easily-accessed beach destination but if you have time and visit between April and August, find paradise in the Perenthians! Then, soak up the countryside and drink tea in the misty Cameron Highlands. Oh, and spot wildlife on jungle walks in Taman Negara Nat Park. Told you Malaysia has everything!
Safety: 9/10. There's little crime. Although Malaysia is not an especially progressive country in terms of women's or LGBT issues, this shouldn't affect tourists.
Meeting other travelers: easy. KL and Georgetown (Penang) have the liveliest backpacker scene. The only places you might stay solo are the Perenthians and Taman Negara.
Cost: very affordable. Hostels start from and street food can cost less than $1.
Read next: solo female travel in Malaysia
Rishikesh, India
Solo travel rating: advanced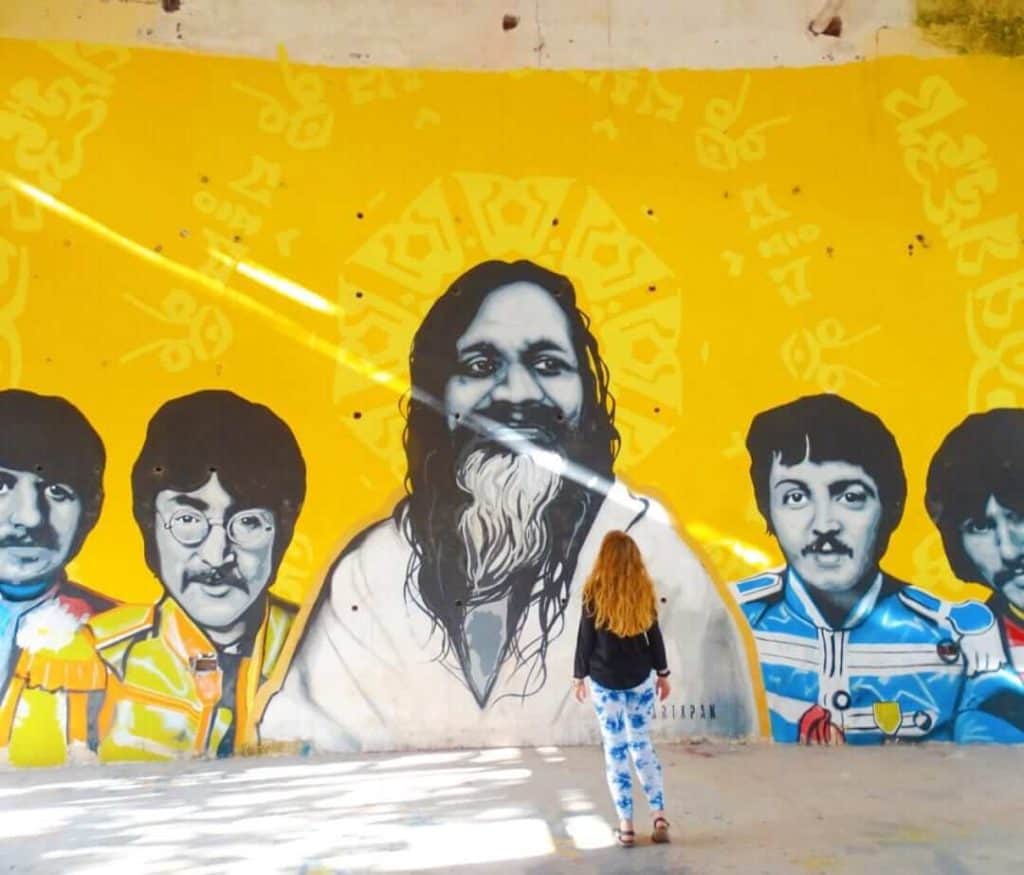 Beatles Ashram, Rishikesh
India won't come up in many guides to the best solo travel destinations but it depends on what you're looking for. If you have yet to bite the bullet and travel alone, then no: solo travel in India probably isn't a great idea. But in 2019, when I was comfortable traveling in Southeast Asia and wanted a new challenge, it was rewarding, liberating, and life-affirming!
One of the best places to travel solo in India is Rishikesh. This wonderful city in the state of Uttarakhand is known for its many yoga retreats and studios where you can try meditation, sound healing, and so much more. It's super popular with travelers so it's easy to make friends.
Other things to do in Rishikesh include visiting the Beatles Ashram (where they wrote songs in the 60s) and visiting the waterfalls and riverside beaches around the town. The staff at Shiv Shakti Hostel take guests on fun day trips.
Not only are there cheap and delicious local restaurants serving authentic fare but there are gorgeous cafes in Rishikesh serving coffee, baked goods, veggie burgers, and falafel. If you need a break from Indian food then Rishikesh is one of the best places to do it. (NOTE – Rishikesh is a dry state so don't expect a glass of wine each night/ever!).
Safety: 6/10. Attitudes towards women in India have a long way to go; always be cautious. Although you may receive a lot of stares, I find these are mostly just curious. I have visited India 3 times and nothing bad has ever happened.
Meeting other travelers: very easy especially if you stay in hostels or take a yoga retreat.
Cost: India is one of the cheapest places I've been; read the India budget travel guide I put together.
Taiwan
Solo travel rating: medium.
Colorful Kaohsiung city
In terms of cost, safety, and ease of getting around, Taiwan is a fantastic destination for women to travel alone. I've only listed it as a 'medium' rather than easy destination because I didn't meet many other travelers and therefore felt a bit lonely.
Taipei and Kaohsiung are cool cities with loads to do and fantastic food, Taroko is a wonderful place for hiking, and there are beautiful beaches in Kenting National Park. It truly has a bit of everything and is one of my favorite Asian countries!
Safety: 10/10.
Meeting other travelers: Not the best. I found it was mainly locals in hostels and they didn't always speak much English.
Cost: accommodation isn't too cheap but everything else is, especially if you eat at the amazing night markets.
South Korea
Solo travel rating: medium
South Korea is a wonderful country for any type of travel. It was Seoul that I really fell in love with: there are endless museums, food markets, shopping streets, nightclubs, and temples, plus it's easy to escape the city for hikes.
There were other places in Korea I liked such as Jeju Island (although this wasn't the best place for solo travel because it was hard to get around), Jeonju, Busan, and Gyeongju. I hope to return to South Korea many more times!
Safety: 10/10.
Meeting other travelers: easy in hostels in Seoul and during activities and day tours.
Cost: pretty expensive by Asian standards.
I gave Korea a medium difficulty rating because there are a few meals – like Korean bbq – that aren't accessible for solo travelers. I'm still bitter 😉 Aside from that, Korean food is AMAZING and part of the reason to visit!
Bali
Solo travel rating: medium
Why travel solo to Bali? Well, it's one of the closest places on earth to paradise. Balinese food is delicious (especially for vegans), the people are friendly, and the rich Hindu culture is fascinating.
Having spent several months doing the digital nomad thing in Bali and traveling the island extensively, I can vouch for Canggu, Ubud, and Uluwatu as well as closeby islands like the Nusas, Gilis, and Lombok to add to your Bali itinerary.
It's a little harder to break off the tourist track than in places like Thailand and Vietnam but it's doable, and worth it when you do. What I didn't like about solo travel in Bali? There's no public transport. Scooter is the best way to get around cheaply but as a solo traveler who isn't a confident driver, I felt stuck. Between destinations such as Ubud and Canggu, I had to rely on taxis as there were no buses.
Safety: 10/10.
Meeting other travelers: easy thanks to loads of hostels and day tours etc.
Cost: it can be super cheap if you eat local food and travel around by scooter. But due to its reputation as a honeymoon destination, it's easy to splash the cash on fancy hotels, floating breakfasts, flower baths, and boujee brunches if you wish.
Yogyakarta, Indonesia
Solo travel rating: easy
Borobudur
Want to see more of Indonesia than Bali? Well, in my opinion, the best destination for solo female travel in Indonesia is Yogyakarta on Java island. This pleasant, safe city is centered around the beautiful Sultan's Palace complex and there are lively markets to try Javanese food like Malioboro.
Prawirotaman Street is where to get your Western comforts at the many cafes. I can recommend a great hostel near there called Good Karma. Best yet is watching sunrise over Borobudur, the largest Buddhist temple site in the world.
Safety: 9/10.
Meeting other travelers: I met nice people in Good Karma hostel but generally, you won't meet as many travelers here as some other places in Southeast Asia. But the locals are so friendly!
Cost: very very cheap!
Vietnam
Solo travel rating: easy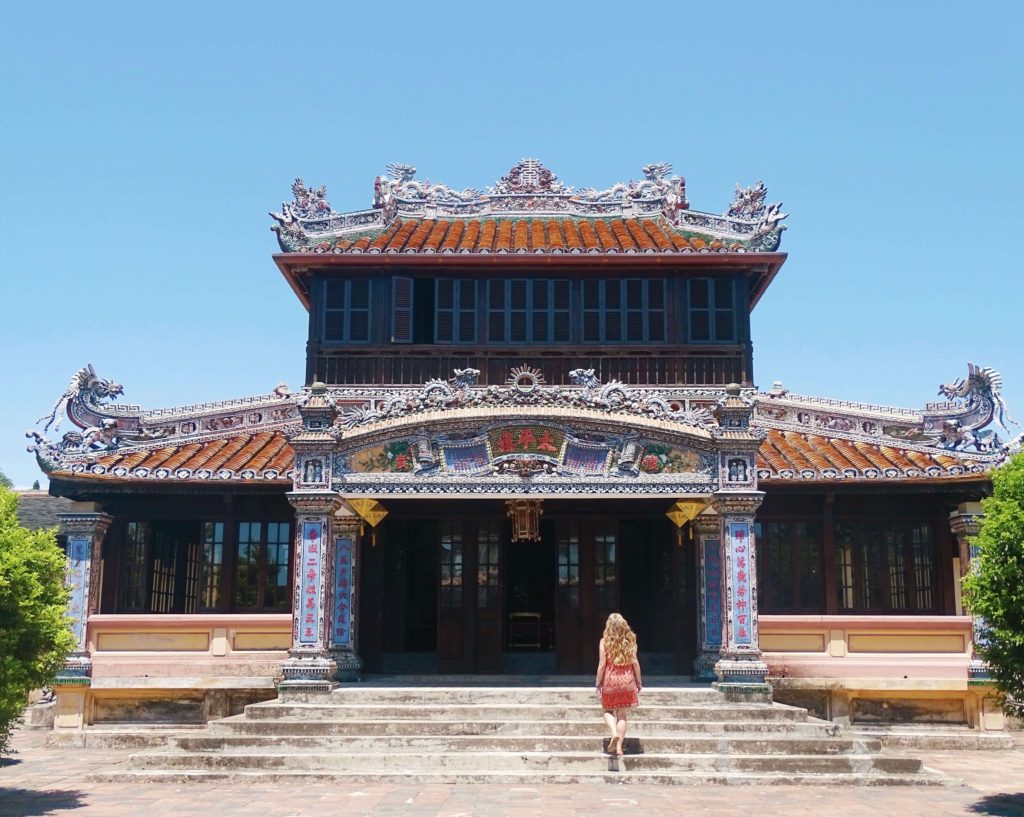 Imperial city, Hue
I've raved about other countries in this blog post. Forget them all. Vietnam had my heart before I even arrived and I can never return enough times.
Japan
First up is Japan, a country that never fails to amaze me. It's one of my favorite countries to explore, especially as a solo female traveler. If you're looking for a quick escape, you can see the highlights of Japan in just 7 days. Alternatively, you can take your time and spend up to a month riding trains around the country. Some of my favorite cities include Kyoto, Tokyo, and Osaka. But the most memorable experience for me was staying with Buddhist Monks.
Sri Lanka
Another destination I wish I had spent more time in is Sri Lanka. This tropical oasis has become increasingly popular and is a great alternative to Bali. It's the perfect place to have your own Eat Pray Love moment. There are some great yoga retreats and surf camps, so you can also meet fellow travelers.
Italy
I don't know if I love Italy as much as I love pizza or if I love pizza as much as I love Italy. Either way, I can't resist eating pizza in Italy. Exploring the Italian countryside and visiting cities like Rome is one of my favorite things to do. Italy is perfect for solo travelers as it is full of history, amazing food, and so much to explore.
Spain
Spain is a perfect addition to your European itinerary. I highly recommend spending at least three months in Europe to see it all. However, if time is limited, you can still see a lot of the continent in just one month. Don't miss Barcelona while in Spain, it's a city that has my heart.
France
I've always dreamed of exploring the French countryside with a boyfriend, but I ended up visiting it solo and had a blast. There's something endlessly romantic about France that took me by surprise. It's a country perfect for solo travelers, and there are many other great destinations in Europe to explore as well.
Germany
Germany holds a special place in my heart as it was the first country I lived in as an expat. Berlin, in particular, is full of quirky experiences and a vibrant culture. It's a great country to explore solo by train and even better to live as an expat. Berlin is full of other expats too!
Scotland
One of my Scottish friends likes to say that if Scotland had better weather, it would be the best country in the world with absolutely no competition. I couldn't agree more. Scotland has a magical feel, from the streets of Edinburgh to the cliffside castles. The beaches of Scotland's islands are also stunning. Scots have fantastic accents and are incredibly friendly.
Uruguay
Uruguay, situated right next to Brazil, is a charming country with welcoming people. In the capital city of Montevideo, you can enjoy stunning beaches that contrast beautifully with the urban area. Punta del Este, Uruguay's famous resort town, offers beaches, monuments, and peaceful places to relax. In Colonia del Sacramento, you can explore a smaller region filled with history and charm.
Chile
Chile is a country of unique beauty, with landscapes that could be straight out of a film. From the arid desert of Atacama to the wild natural beauty of Patagonia, there is so much to see. Chile also has historic cities, lively beaches, and perfect camping spots. The capital city of Santiago is surrounded by mountains and offers a wide variety of activities for all tastes.
Costa Rica
If you dream of rainforests and beaches, ziplining and volcano-climbing, toucans and sloths, then Costa Rica is the perfect destination for you. It offers a wide range of activities, from hiking and biking to simply relaxing on a gorgeous beach. Central America can be traveled safely with the right research and preparation, and Costa Rica is the easiest country in the region for solo female travelers to navigate.
Marco Island, Florida
If you're seeking a tropical getaway in the US, look no further than Marco Island in Florida. It may not have the same party scene as Miami, but it's the ideal destination for travelers who want to relax. There are still plenty of things to see and do, like jet skiing and visiting nearby Everglades National Park. Whether you're looking for adventure or relaxation, Marco Island has something for everyone.
Slovenia
Slovenia is a hidden gem in Europe that offers a lot to visitors. Despite its small size, it features stunning attractions like the famous Lake Bled. I recently spent two weeks exploring the country solo and had an amazing time. It's a country worth considering for your next adventure.
Malta
Malta surprised me with its beauty and charm. It's a great addition to an itinerary in Greece or Italy, as it's a short flight away and more affordable than other popular tourist destinations. Don't miss the opportunity to explore this hidden gem.
Iceland
Iceland truly lives up to its name, with its icy landscapes and active volcanoes. It offers magnificent sights, from the capital city of Reykjavík surrounded by mountains to the stunning natural attractions like the Fjaðrárgljúfur Canyon. Iceland is a safe and adventurous destination for solo female travelers.
Montenegro
Montenegro is one of the most surprising countries I have visited. It's incredibly underrated and offers a unique travel experience. From renting a car for a two-week adventure to exploring the stunning landscapes, Montenegro is a safe and exciting destination for solo travelers.
Enjoy your travels and don't forget to explore these amazing destinations!
Amsterdam
Ah, Amsterdam — the city of canals, bridges, incredible art museums, historic sites, delicious stroopwafels, and smoked Gouda cheese. Amsterdam is undoubtedly one of the most beautiful cities in Europe, with a unique charm that is unmatched anywhere else.
While some people associate Amsterdam with the Red Light District and sex tourism, and may think that it's wild or unsafe for solo female travelers, I strongly disagree. The Red Light District is just a tiny corner of a large, diverse, and safe city, and it's easy to avoid if you're not interested.
In my opinion, the Netherlands has the best public transportation system in the world, making it incredibly easy to travel throughout the country and even beyond by train. And to make things even better, nearly everyone in Amsterdam speaks fluent English. In fact, asking an Amsterdammer if they speak English is considered an insult!
Must-Do Experiences: Take a relaxing canal boat cruise around the city, indulge in a warm stroopwafel fresh off the grill, spend your day hopping between art museums in the Museum Quarter, treat yourself to an Indonesian rijsttafel feast, and take a day trip to Rotterdam, Delft, or The Hague.
Pro Tip: Be cautious of groups of drunk young men, especially British tourists, who come to Amsterdam for illicit activities. It's best to avoid party hostels, as they tend to be livelier than those in other European cities. Instead, opt for accommodation further away from the Red Light District.
Consider a Guided Tour: If you prefer to explore Amsterdam with a tour group, check out G Adventures' six-day Paris to Berlin trip that includes a visit to Amsterdam. You can also browse through their other Amsterdam tours here.
Read More: Exploring Sexy Dutch Design in Amsterdam and Rotterdam
Enjoying the picturesque views and donning my favorite elephant-printed pants in Pai, northern Thailand.
Portugal
When I first set foot in Portugal around 6 or 7 years ago, I instantly wondered why it took me so long to visit. There's something incredibly inviting about the city of Lisbon — from the vibrant colors to the charming bars and amazing food. The locals are warm and welcoming, and it's no surprise that I returned a few years later to explore the South of Portugal. I highly recommend spending at least four nights in Lisbon alone, and even more if you plan on venturing into the countryside.
Croatia
If you're dreaming of stunning Mediterranean islands, let me introduce you to the Adriatic instead. Croatia is a country I know well — so well, in fact, that I won Croatia's top travel writing award in 2021! The country never fails to amaze me with its breathtaking beauty.
Many people mistakenly think of Croatia as part of Eastern Europe, assuming it's unsafe or challenging to travel there. None of that is true (and calling Croatia "Eastern Europe" might get you punched). In reality, Croatia is an ideal destination for solo female travelers. English is widely spoken, there's excellent travel infrastructure, and the roads are in great condition, making it perfect for a road trip.
Not only that, but island-hopping in Croatia is more affordable than popular Greek islands or Italy's Amalfi Coast. Croatians have a Central European mindset, meaning things are well-organized and run on time.
Must-Do Experience: Explore the city walls of Dubrovnik, marvel at the waterfalls of the Plitvice Lakes, take a boat trip to the Blue Cave in Vis, join a bike tour to wineries in Korčula, witness the stunning sunsets of Rovinj or Zadar.
Pro Tip: Once you venture onto smaller islands, you may find that the food options can become repetitive. While the seafood is delicious, it's a good idea to diversify your cuisine experience in larger cities like Zagreb, Split, and Dubrovnik!
Consider a Guided Tour: For those interested in visiting Croatia with a tour group, G Adventures offers an eight-day Croatia sailing trip that includes multiple island visits. You can browse through all of their Croatia tours here.
Read More: The Comprehensive Guide to Solo Female Travel in Croatia
Captivating view of Skellig Michael and Small Skellig, Ireland
Atlantic Canada
Canada's four Atlantic provinces — Nova Scotia, New Brunswick, Prince Edward Island, and Newfoundland and Labrador — tend to be underrated destinations. However, they are bursting with charm, making them perfect for solo female travelers.
Sometimes, I jokingly claim that my blood pressure is at its lowest whenever I'm in Canada. There's something about the country that just feels easy, clean, friendly, and beautiful. Atlantic Canada, in particular, offers stunning landscapes, picturesque cottages adorned with vibrant colors, and an abundance of fresh seafood.
There's so much to see and do in Atlantic Canada that it's best to choose one province and explore it thoroughly. I've had the pleasure of doing that in Newfoundland and Nova Scotia twice, and I can't wait to return to both of them!
Must-Do Experiences: Embark on a scenic drive along Nova Scotia's Cabot Trail, go moose-spotting in Cabot Highlands National Park or Gros Morne National Park, hike or bike along the red beaches of Prince Edward Island, immerse yourself in Newfoundland culture with a Screech-In ceremony, and indulge in as much lobster as your heart desires.
Pro Tip: The best time to visit Atlantic Canada is during the summer months when the weather is most favorable. However, the summer season is short. (Although, I did enjoy an early fall trip to Nova Scotia!)
Read More: What's It Really Like to Travel Newfoundland?
Blonde hair and sunglasses — my signature look in New York.
United States
The United States often receives unfair criticism for not being adventurous enough, but I couldn't disagree more. There are countless adventures to be had throughout the country, from the bustling streets of New York City to the tranquil retreats in Arizona. I never tire of exploring the diverse landscapes and vibrant culture that the US has to offer.
Some of my favorite adventures include immersing myself in the beauty of upstate New York, embarking on a soulful road trip through Arizona, and discovering the magic of Joshua Tree in Southern California.
There are multiple ways to explore the United States, with road trips being the most popular choice for traversing the country. However, there are also fantastic train journeys that take you within state lines. If you're in the mood to treat yourself for a special occasion, Limo Find offers a range of great shuttle services, from buses to private cars.
Ireland
If traveling is about connecting with people, Ireland is undoubtedly the best destination in the world. Irish people are the true gems of the country, incredibly friendly and welcoming, always ready to share a story with their melodic accents. They're also quick to tease you, which is a sign of affection.
Beyond the warm hospitality, Ireland is home to breathtaking natural landscapes, charming small cities, and intriguing historic ruins. It's the perfect destination for a road trip, although you'll have to adjust to driving on the left side of the road. Some of the most memorable moments in Ireland come from stumbling upon quaint towns by chance.
Many Americans visit Ireland to explore their Irish ancestry, and the country often feels like a homecoming, even if you don't have a drop of Irish blood in you.
Must-Do Experiences: Journey to the remote island of Skellig Michael, discover your favorite picture-perfect town along the Ring of Kerry, savor a night out in the pub-filled city of Galway, marvel at the geological wonder of Giant's Causeway, and relish traditional Irish music in local establishments.
Pro Tip: When in Ireland, it's common to participate in rounds of drinks known as "shouting" beers. One person buys a round for the whole group, and then the next person buys the next round. If you're not fond of excessive drinking or trying to keep up with seasoned drinkers, politely decline and nurse your drink.
Consider a Guided Tour: If you prefer to experience Ireland with a tour group, G Adventures offers a nine-day Ireland trip that covers both the Republic of Ireland and Northern Ireland. You can explore all of their Ireland tours here.
Read More: Visiting Skellig Michael, Ireland's Most Stunning Destination
A canceled KLM flight ended up giving me a delightful surprise with 24 extra hours in Amsterdam!
Austria
Austria is often considered a near-perfect country by many travelers. It's no wonder, as Austrians enjoy an incredibly high quality of life. The country boasts extraordinary landscapes, including snow-capped mountains, lush green forests, and crystal-clear lakes.
When it comes to safety, Austria ranks fourth in the International Women's Travel Center's list of the best countries for women traveling alone. It's also considered one of the safest countries in Europe for solo travel.
If you're looking to fully immerse yourself in Austrian culture, consider staying longer and living like a local. You can find fantastic opportunities through Worldpackers hosts in Austria.
For more useful information on Austria, explore the best Austrian mountains to visit and tips on how to get there.
Thailand
Thailand marked the beginning of my long-term solo travels, and it was an excellent choice. From the moment I arrived, I fell in love with this country — it's a land of stunning beaches, misty mountains, a remarkable megacity, and incredibly affordable hour-long massages that cost only .
Asia can be challenging for first-time travelers due to significant cultural differences and, often, a significant time difference. However, Thailand is one of the easiest places to ease into Asia. Thai people are incredibly friendly, the cuisine is likely to be familiar, English signage is abundant, and prices are quite affordable, especially in the northern region.
Moreover, Thailand offers excellent travel infrastructure and caters to various budgets. You can walk into a local travel agency and plan a trip to another city for the following day, and they'll take care of all the necessary transportation. It couldn't be more convenient!
Must-Do Experiences: Indulge in a shopping spree at the bustling Chatuchak Weekend Market in Bangkok, participate in a Thai cooking class in Chiang Mai, treat yourself to foot or body massages daily, learn to ride a motorbike around the stunning mountains of Pai, and have unforgettable sunsets on Koh Lanta island.
Pro Tip: It's worth noting that many solo travelers in Thailand tend to be young backpackers. If you don't fall into this group, you might find it more challenging to meet people with similar interests. Consider joining organized activities to connect with fellow travelers.
Consider a Guided Tour: If you prefer to have a guided experience of Thailand, G Adventures offers a 14-day Thailand trip that includes a stop in my beloved Koh Lanta. You can explore all of their Thailand tours here.
Read More: The Ultimate Guide to Solo Female Travel in Thailand
Finally fulfilling my dream of climbing the Sydney Harbour Bridge at the age of 29.
Cape May, New Jersey
Cape May girls weekends are extremely popular, but this charming Victorian seaside resort town is also a wonderful destination for solo travelers. Whether you choose to visit during the summer and unwind on the beach with a captivating book or explore the town's local brewery, independent museums, and historical sites on trolley tours, Cape May offers something for everyone at any time of year. It is the perfect place for a solo getaway, allowing you to escape reality for a weekend and indulge yourself in luxury.
Is it expensive? Well, maybe not, but I assure you that Cape May is definitely worth a visit.
Hope to See You in Fremont Seattle! Essentials for First Time Solo Female Travel in USA
If you are planning your first solo trip to the United States, I hope you find these ideas helpful! To wrap things up, here's a quick list of essential items to bring along on your memorable journey:
Battery-Power Charger: Don't risk losing access to your phone on your first solo trip, especially if you rely on maps for directions. Make sure to pack a battery-power charger to keep your phone running all day long.
Lightweight Day Pack: A lightweight day pack, like Tumi's offering, is perfect for solo travel. It allows you to carry everything you need without feeling weighed down.
Lonely Planet USA: When in doubt about where to go, consult a Lonely Planet USA guidebook to help determine the best destination for your first solo trip in the USA.
Microfiber Towel: If you choose to stay in hostels, it's a good idea to bring a microfiber towel with you. It's handy for personal use as well as for picnics and trips to the beach.
Mirrorless Camera: For those looking for a more powerful camera than their smartphones, a Sony Mirrorless camera is highly recommended. It's compact, easy to carry, and captures stunning photos to share with others.
Travel Insurance: As an international traveler, it is always wise to purchase travel insurance in advance, especially considering that your home country's health insurance may not cover you in the United States.
In conclusion, solo travel is a wonderful soul-searching experience that I believe every woman should embark on at least once. I hope you enjoyed reading my recommendations for first-time solo female travel destinations in the USA. Feel free to share your own experiences with me!
Whether you're a seasoned solo traveler or someone looking to embark on your first adventure alone, there are countless amazing destinations waiting to be explored. From the charming streets of Europe to the breathtaking landscapes of Oceania, and the vibrant cities of the Americas to the exotic cultures of Asia, the world is your oyster. So pack your bags, book your ticket, and embrace the freedom and empowerment that comes with traveling solo. With these incredible destinations at your fingertips, the only question left is: where will your next unforgettable journey take you?